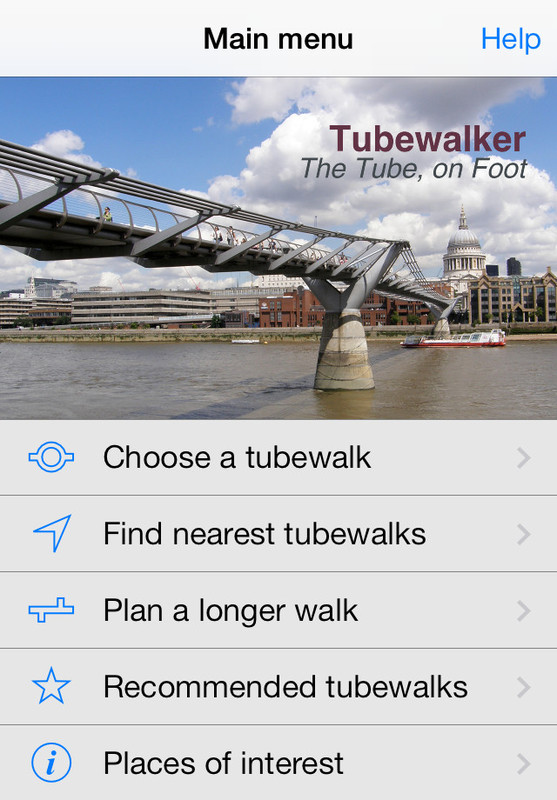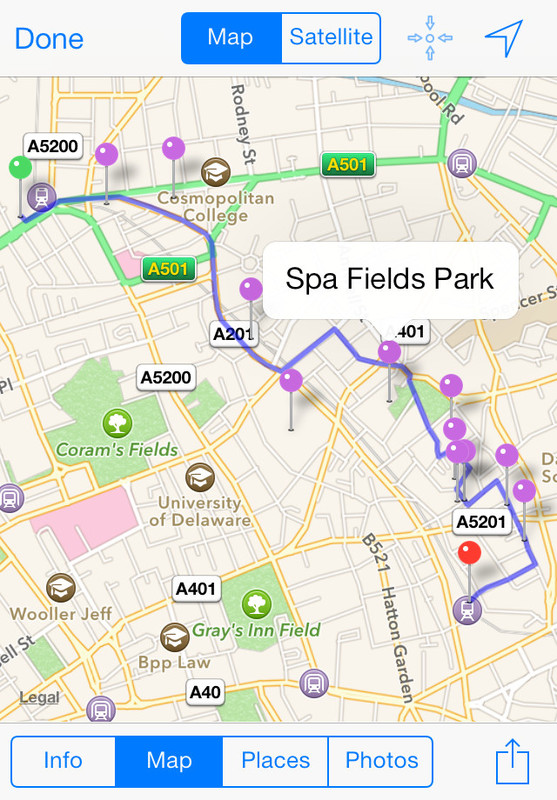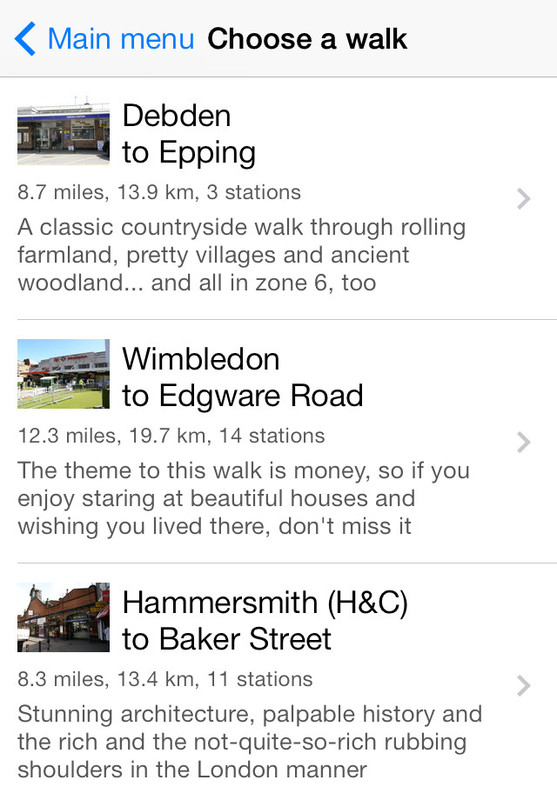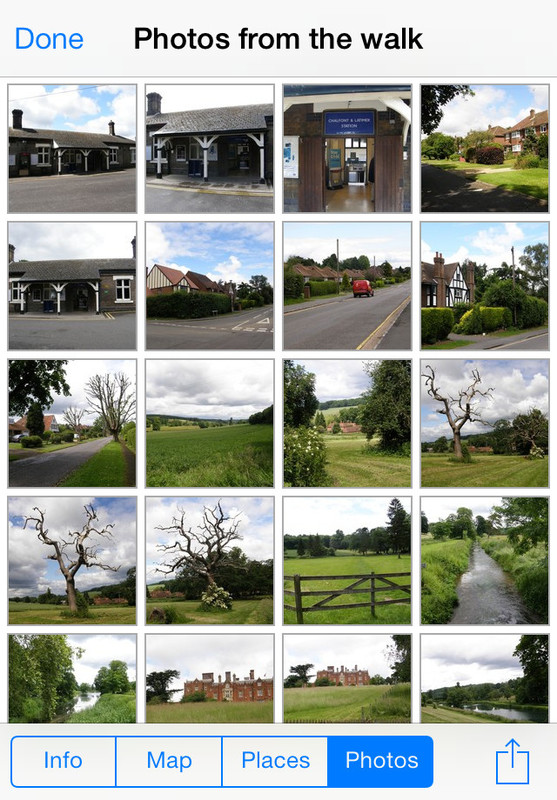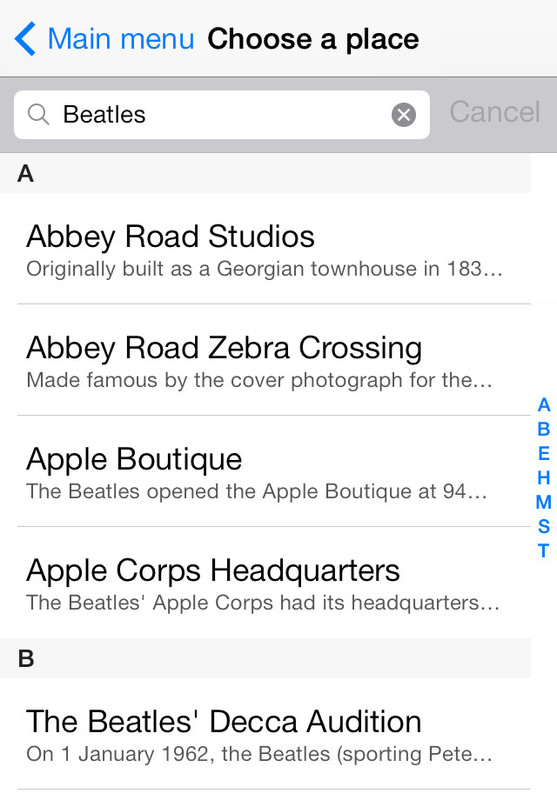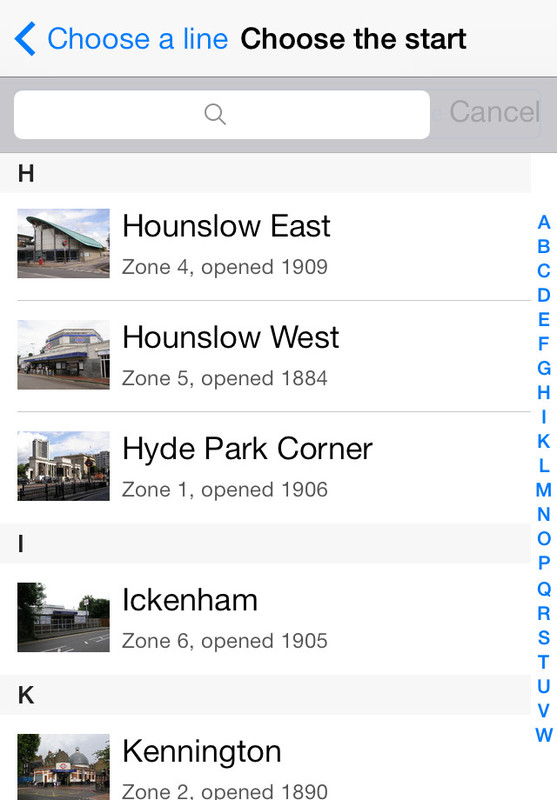 Welcome to the world of tubewalking on your iPhone.
The Tubewalker application is free to download and contains maps and descriptions for tubewalks all over London, with Zone 1 (88 tubewalks) included for free, and Zones 2 to 9 (a further 230 tubewalks) available via an In App Purchase. That's a total of 318 tubewalks between 277 stations, covering 440 miles of walking with over 1300 places of interest and 9750 photographs – everything you need to get tubewalking.
What is a tubewalk?
A tubewalk is simply a walk between two Tube stations. Tubewalking is a great way to explore London: every tubewalk starts and ends on public transport, and you can plan your tubewalk to last as long as you want, from a few minutes to a few days.
I tubewalked the entire Tube network in summer 2008, and the Tubewalker application covers every step of that walk, just like this website. I designed my route to take in as many interesting sights as possible, and you can find all those places of interest in this application.
How many Tube lines are covered?
The Tubewalker application covers the entire London Underground network. Zone 1 is included for free, while Zones 2 to 9 are available via a £1.99 In App Purchase.
Note that the Docklands Light Railway and London Overground aren't part of London Underground, so they aren't included. I had to leave something to look forward to for my next tubewalk...
How does it work?
First you need to choose a station to start walking from. You can do this:

By browsing through a list of all stations, by line or by name

By choosing from the nearest stations to your current location

By picking one of my recommended tubewalks (all these are included)
By using the tubewalk planner (see below for more details)
Once you have chosen a station to start from, you will be shown all the available tubewalks from that station. You can pick one by tapping it.
Doing a tubewalk by iPhone
Once you've chosen a tubewalk, you'll see a description of the walk with a four-button menu bar along the bottom, and a menu button on the right.
The Info tab contains a description of when I did the walk, taken from this website (there is a link to the relevant section of the website at the bottom of the description). If this is a multiple-leg tubewalk, you can scroll through the individual legs by flicking the screen left or right or by using the page control at the bottom.

The Map tab contains a map of the walk, complete with places of interest. Tap a place of interest to see its name. You can change the map to a satellite view, and can also:

Toggle whether the map shows your current location (and zoom to where you are)

Zoom to show the whole walk on screen, in case you get lost

The Places tab lists all the places of interest for this walk in alphabetical order, along with more information on what you'll be walking past.

The Photos tab shows lots of photographs from this tubewalk; tap on a thumbnail to see a larger version, just like in the standard Photos app. When viewing a larger version, the menu button on the right lets you view the exact spot where I took that photo.

Finally, the menu button on the right lets you hide placemarkers from the map (useful for longer walks) or jump to an adjacent tubewalk, if there is one. If you're following a recommended walk or the results of the tubewalk planner as individual legs, then this menu lets you move on to the next leg or return to the previous one.

For iOS 6 and above, the menu button also lets you swap between Apple Maps and Google Maps, so you'll never get lost.
Planning a longer walk
If you want to plan a longer walk that connects lots of little tubewalks together into an all-day excursion, then the tubewalk planner is for you. Choose a start station, and the planner will show you all possible tubewalking routes that start from that station; similarly, if you choose an end station, the planner will show you all the routes that end at that station. Tap a result to see more about that route, complete with route descriptions, maps and places of interest.
You can also filter tubewalks by distance, so if you want to go for a ten-mile walk that ends at, say, Ealing Broadway, then simply set the end station to Ealing Broadway and the distance to 'Around 10 miles, 16km', and the planner will show you all the available options.
If you choose both a start and an end station, the planner will show you the quickest route between the two.
Places of interest
You can also use the 'Places of interest' menu to search through all the interesting places you can visit by tubewalk. Simply choose a place from the list of names to read more about it and see which tubewalks can take you there. Zone 1, which is included for free, comes with 452 places of interest, while unlocking Zones 2 to 9 gives you a total of 1313 places from all over London.
Support
For more help and support, please visit the Tubewalker support page.
Credits
All the code and content in the Tubewalker application has been lovingly crafted for your entertainment by Mark Moxon. You can find out more about the author at markmoxon.com, and more about the Tubewalker project at tubewalker.com.
A big thank you to Craig Spitzkoff for his excellent set of articles on drawing polylines as routes, which pointed me in the right direction for my own maps. Thanks also to Dave Mark and Jeff LaMarche for their brilliant Beginning iPhone Development book, which got me off to a great start.
Disclaimer
I can't guarantee that these walks exclusively use public rights of way, though I did do every walk myself in the summer of 2008 and I don't think I walked anywhere that I wasn't allowed (note, though, that you definitely need permission from BAA to do the walks around Heathrow, as it's private property). Things change, and I accept no responsibility or liability for anything that goes wrong if you do try these walks: in other words, use your head as well as your feet.