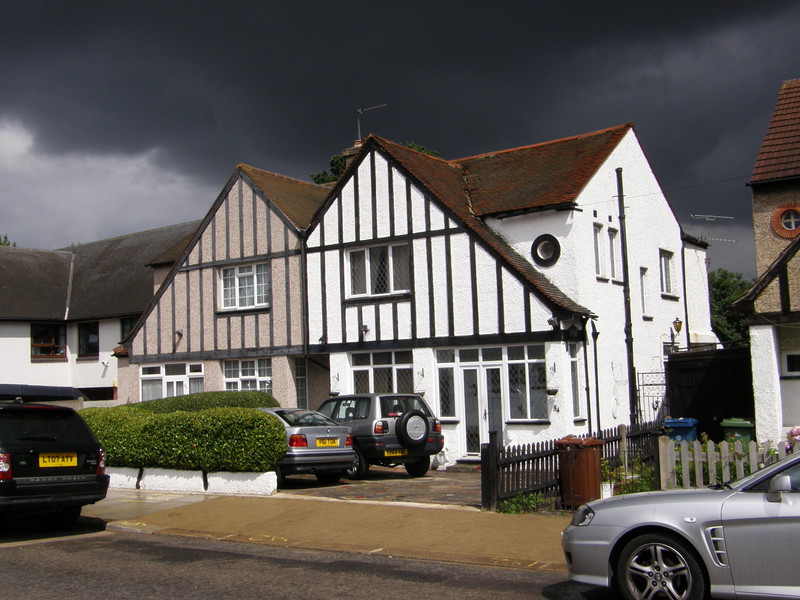 Oh dear, this is such a dreary walk. I do try to look on the positive side when tubewalking, and there's almost always something good to say about each section... but the Bakerloo line just hasn't turned out to be a good walking line, and there's not a lot I can say to make it seem more attractive than it already isn't.
The first half of the Bakerloo line started on a low note, perked up a bit through the centre of the city, raised its game in Maida Vale, and then went downhill all the way to Willesden Junction (with a brief blip in Queen's Park, half of which was very pleasant). Today's walk unfortunately continues this theme, and I'm really struggling to think of any highlights. Even the scattered showers that kicked in towards the end failed to dampen my spirits, because they'd already been dampened by the walking.
In short, and alone among all the lines I've walked so far, I can't recommend the Bakerloo line for walking. It might be fine for living alongside, and there are probably isolated pockets of beauty that are hidden well away from the Tube, but I won't be bothering to come this way again once my tubewalk is over, which is a shame. Still, you win some, and you most definitely lose some...
Willesden Junction to Harlesden
Things didn't start off well today, but then they didn't end particularly well last time. Willesden Junction is exactly that – a huge railway junction – and unless you're a dyed-in-the-wool train enthusiast, the sight of all the industry to the south is a bit down-heartening. To the southeast is Park Royal, the massive industrial park that I first came across when walking from Hanger Lane to North Acton on the Central line, and this side of the tracks isn't much better, as Station Road and Acton Lane are pretty uninteresting roads to walk along. There are some large churches and plenty of tired-looking terraced houses, but that's about it.
Luckily it isn't far to Harlesden station, and I spent the last couple of minutes before the station trapped in the slipstream of two particularly fragrant east Europeans, who were heading off into the distance clutching a plastic bag full of cans of Carlsberg Special Brew. Their faces were swollen like inflated balloons in the sun, and when they stopped at the lights and looked at each other, I could see they were brothers, clearly sharing the same alcoholic genes. What a way to go...
Harlesden to Stonebridge Park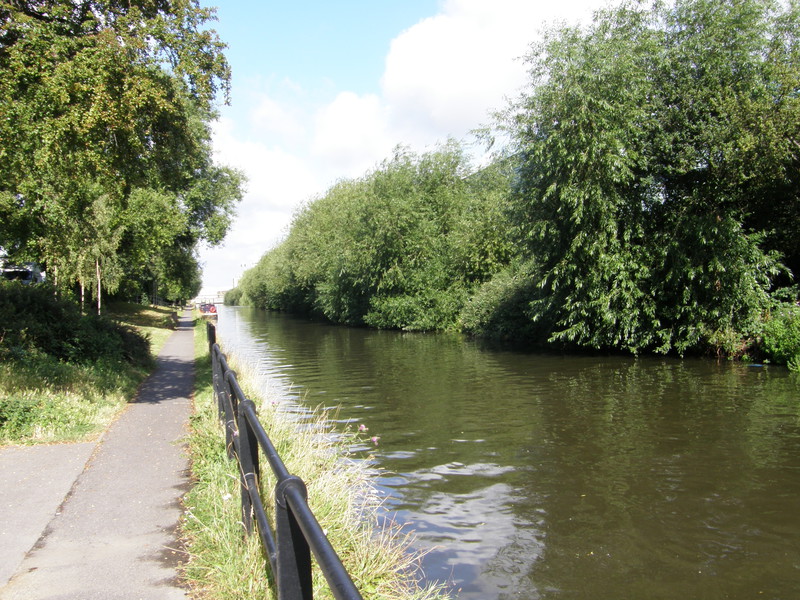 Neither Harlesden nor Stonebridge Park has a terribly good image; the former is known as the 'UK murder capital' and is notorious for Yardie gang culture and high levels of crime, and the latter is home to the Stonebridge Estate, which has some of the highest recorded crime levels in the country (though the regeneration of the estate is helping to bring those figures down). However, I didn't experience any of this, as I chose to head south into Park Royal, to catch some canal walking.
The short section of the Grand Union Canal from Acton Lane to Abbey Road is the highlight of this entire day's walk, and that's really saying something, because this isn't the canal at its most beautiful. The towpath is also a bit of a minefield, as this is a popular area for Indians on bicycles, and none of them seem to bother with bells; I was merrily walking along the towpath, minding my own business, when suddenly I heard the swoosh of a bicycle behind me, tried to step out of the way and nearly ended up being pushed into the drink along with the bike, only to be swerved into the undergrowth by a second bike that was going just as fast. I don't mind bikers on towpaths, but sometimes I wish I carried a trip wire, just to weed out those who have a deathwish.
Turning off the canal into Abbey Road takes you to the mad rush of the North Circular Road, and there's a footbridge just around the corner from the huge D-Link headquarters that takes you to the other side. This is a large junction of rail and road, and the footpath takes you under the arches of at least five large railway bridges (though I lost count, so it could be more). Stonebridge Park station is up a small road on the other side of the bridges, and it's a modest affair; the original station buildings, which were a little further to the east, were destroyed in the Blitz, and the current station was built by the London, Midland and Scottish Railway as a replacement. The station has suffered two major fires since then, but has been renovated and the resulting building is a modest, rectangular stone affair that offends no one.
Stonebridge Park to Wembley Central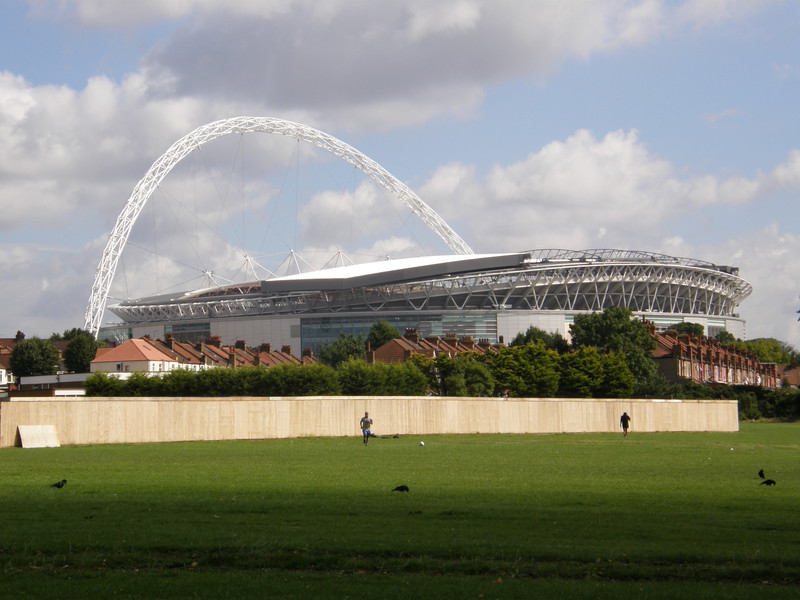 The canal is the last interesting thing on this walk, because from here it's unremitting suburbia, and not terribly exciting suburbia at that. Tokyngton Avenue is a good example; it sets off from beneath the shadow of a large and worryingly black office block, and passes through a smorgasbord of dull housing from between the wars, when the whole area around Harlesden, Stonebridge Park and Wembley exploded with low-cost housing. The stalwart of this housing is your typical two-up-two-down suburban home, with two bay windows on one side of the house, one on each floor and separated by a red skirt of tiles; and the front door and a smaller upstairs window on the other side, the door topped with a red tiled porch roof. This style of house can be found throughout the country, but when it takes over entire neighbourhoods, it gets a bit tiresome. The suburbs along the Metropolitan line to Uxbridge and the Ruislip end of the Central line all suffer from this monotony, and so does this part of Stonebridge Park.
Judging by the map, the playing fields at the end of the road would appear to offer a break in the endless suburbs, but they're off-limits to the general public, and instead a footpath takes you around three sides of a rectangle to deposit you on the High Road without once touching grass. There is one good thing about this path, though; it provides you with good views of Wembley Stadium, which is a deeply impressive sight, even from this distance. That aside, the most interesting thing I found on my circumnavigation of the playing fields was a quarter-bottle of Jack Daniel's placed on a ledge by the side of the path, empty except for a white cigarette butt. It looked... well, it looked like a study for a still life in Stonebridge Park, so I took its photograph and wished it well.
Wembley Central station is along the High Road, past a busy junction and rows of shops that can be found on any high street in the land. The station entrance, which dates from 1936 and has a vague hint of Art Deco about it, leads through a 1940s shopping arcade to the station itself, though the high street frontage is currently surrounded by development work (indeed, the building to the left is no more than a shell behind blue hoardings, leaving the station to stand almost alone). It'll be interesting to see what's left once all the brick dust has settled.
Wembley Central to North Wembley
Turning off the high street and up Park Lane, things suddenly take a turn for the better in King Edward VII Park. Opened back in 1914, just three years before Bakerloo line trains started serving Wembley Central, the idea was that this new council-run park would make up for the loss of Wembley Park, which had been bought by the Metropolitan Railway for development; Wembley Park would go on to host the British Empire Exhibition of 1924-5 and is now home to Wembley Stadium and its environs, but King Edward VII Park is a relatively modest affair, with some landscaping to the eastern end and flat playing fields to the west.
Yet more dreary suburbs lie on the other side of the park, with pebbledash and Mock Tudor rubbing shoulders in an attempt to out-grim each other. The streets are faded and the architecture is standard between-the-wars fodder, and when you come across something different – even if it's an unattractive 1960s block or a failed experiment in post-modern social housing – it breaks the monotony to the point where you find yourself thanking the architect who decided to fill that particular gap with that particular eyesore, even though if you met that sort of building in a more upwardly mobile suburb, you'd deny you ever knew each other.
North Wembley station sits on a bridge over the railway line, and consists of a small house-like ticket office above the line below. Interestingly, there's no Tube roundel anywhere to be seen, or even a London Overground logo, even though it serves both of them.
North Wembley to South Kenton
When planning this section, I couldn't find anything of merit to the west of the railway line, but to the east is Preston Park, which I thought might be worth visiting, so I plotted a route through Wembley Commercial Centre to the park, and thought that would be that. Unfortunately Wembley Commercial Centre turns out to be private property, a point made by the kind of sign that you just know is backed up by rottweilers, so I had to change my plans. I spent ten minutes vainly trying a route along the eastern flank of the Tube line and briefly considered heading further east to skirt round the industrial park, but the skies were starting to turn ominously dark and I bottled it and headed back to the station.
The direct route, then, is along Peel Road and Nathans Road, which are joined by a small footpath. Peel Road is not terribly attractive and continues the area's love affair with red-skirted pebbledash semi-detached two-up-two-down houses, and Nathans Road threatens to continue the same old theme... but suddenly things smarten up, and Mock Tudor takes over. Interestingly this is pleasant Mock Tudor, and the front gardens smarten themselves up pleasantly all the way to the station. It's a bit of a surprise after miles of drab pebbledash, but just to the north is Northwick Park, which I enjoyed walking through on the Metropolitan line, so perhaps this is a slightly more affluent area than down the road.
South Kenton station is a more modern station than its neighbours, dating from 1933, some 16 years after the line started carrying Bakerloo trains through here. The station is well hidden from passers by, as it's up on an embankment and can only be reached by a pedestrian tunnel below the station (through which you can pass without a ticket). Indeed, the station has no ticket barriers at all, one of very few stations on the Underground that doesn't, and there are no plans to install them as space on the platform is too restricted.
South Kenton to Kenton
Windermere Avenue, which leads from South Kenton to the Metropolitan line to the north, is astounding. It's not astounding because of its beautiful architecture or its great taste, but because it's home to something I've never seen before: the bastard love child of pebbledash and Mock Tudor. As I saw in West Acton, Mock Tudor can be beautiful, but only if it's stylishly designed and well looked after (peeling black timber and unpainted grey splodges of plaster on the white parts can rather spoil the effect). However, I've never come across an attractive use of pebbledash, and combining the two is surely asking for trouble; walk along Windermere Avenue and you'll see what I mean (or, possibly, you'll discover a style of housing like no other, and it will change your life forever).
A footbridge over the Bakerloo line takes you to Churchill Avenue, where suburban reinvention is celebrated by Kenton Spiritualist Church. This church is actually a completely standard, detached Mock Tudor suburban house, with a sign out the front listing service times, and I have to say it works really well. The house is tidy, the patio surrounding the church is spotless, and there's more pride in this church than many; good for them.
Kenton station is practically identical to North Wembley station, sitting on the same side of the bridge with the same 'is it a suburban house or a railway station?' ambience. Indeed, the similarity in design extends to the platforms, and apparently it's well known for catching out passengers who don't read the signs too closely and hop off, only to find that they're two stops away from the station they really want.
Kenton to Harrow & Wealdstone
The pebbledash Mock Tudor housing continues along the backstreets after Kenton station, all the way to Kenton Recreation Ground, which at least provides some respite. It isn't a terribly interesting place to visit, as it's mainly made up of wide open and slightly bleak sports grounds... though, to be fair, it's quite hard to have a sports ground that isn't bleak, as trees tend to get in the way of the football, so don't think I'm complaining. It's just not a very exciting place to walk through.
It's a fairly lengthy and fairly uninspiring walk through the backstreets of Wealdstone to the station, with the usual mixture of two-up-two-down, Mock Tudor and pebbledash providing the soundtrack. By far the most exciting thing about this leg is Harrow & Wealdstone station itself, which sports an impressive clock tower above a pleasing red brick and stone building, the letters LNWR (London and North Western Railway) still visible in the stonework above the entrance. This hasn't always been the terminus of the Bakerloo line; back in 1917, Bakerloo services were extended from Willesden Junction all the way to Watford Junction, but in 1982 Bakerloo services north of Stonebridge Park were dropped, though they were reintroduced to Harrow & Wealdstone two years later. It's been the end of the line ever since, though London Overground services continue north along the line to Watford Junction.
I should also point out that Harrow & Wealdstone is a long way from Harrow – it should really be called plain old Wealdstone – so if (like me) you live in west London and want to get home, an option that avoids going back into town is to walk south to Harrow-on-the-Hill, and to hop on the Metropolitan line. It's not a particularly attractive walk, but if you've just walked the Bakerloo line, you'll be pretty used to that kind of thing...