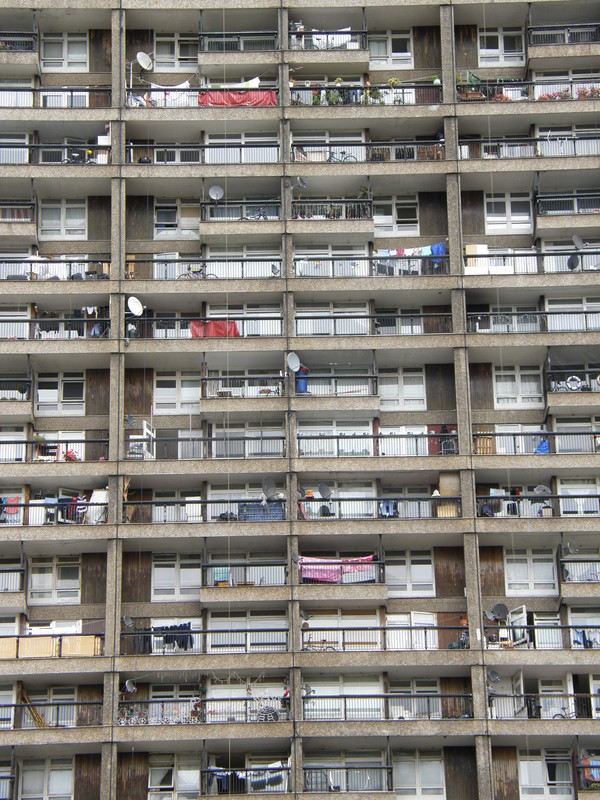 Wow, I really wasn't expecting this walk to be amazing, but amazing it is. The architecture throughout the whole walk is stunning, the history is palpable, and it's a great example of the rich and the not-so-rich rubbing shoulders in the characteristic way that defines London's suburbs.
I'm surprised, because a few years ago I used to live in Chiswick, just down the road from Hammersmith, and until a few weeks ago, I commuted every day into Paddington. But ask me if I fancied walking round either of them, and I'd probably have said, 'No,' particularly if you were talking about the urban end of Hammersmith, away from the Thames. It just goes to show that I might live in London, but I still only skim the surface (but then again, how often does anyone really look at things when they're commuting?). I clearly didn't look at things terribly hard when I lived down the road, but now that I have, I'm delighted. Welcome to the Hammersmith & City line, one of the most delightful walking areas I've come across so far.
Hammersmith (Hammersmith & City) to Goldhawk Road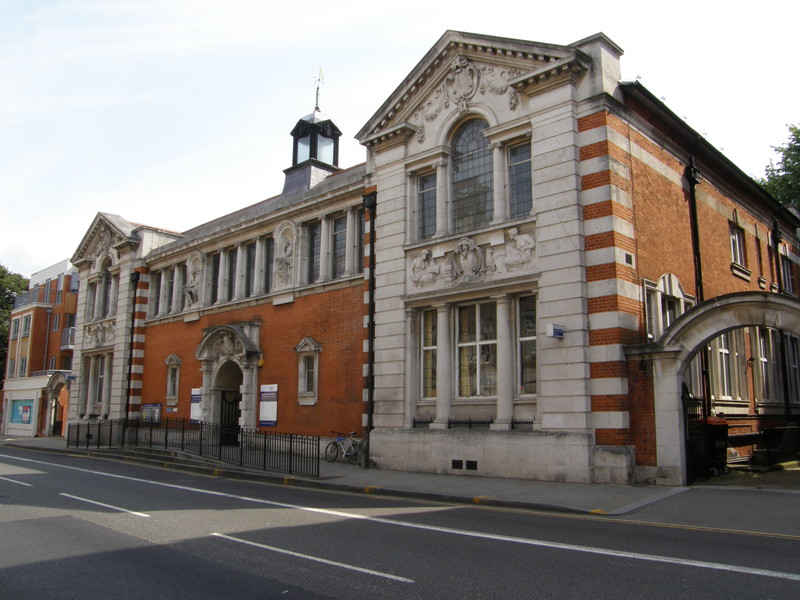 Hammersmith station might not be the most obvious introduction to the delights of the area, with its incredibly busy traffic and hectic shopping crowds, but its history is long and distinguished. Opening on as part of the Metropolitan Railway's western service (though it was moved slightly south to its present location in 1868), this station pre-dates the other Hammersmith station, which lives beneath the Coca-Cola headquarters across the main road and serves the District and Piccadilly lines. It might look a little dwarfed by the surrounding chaos, but when the original station opened, Hammersmith was a relatively small settlement outside London. Standing by the Hammersmith Road, it's difficult to imagine the good old days, but the population went from a measly 10,000 in 1801 to 250,000 in 1901, and a lot of that was down to the railway.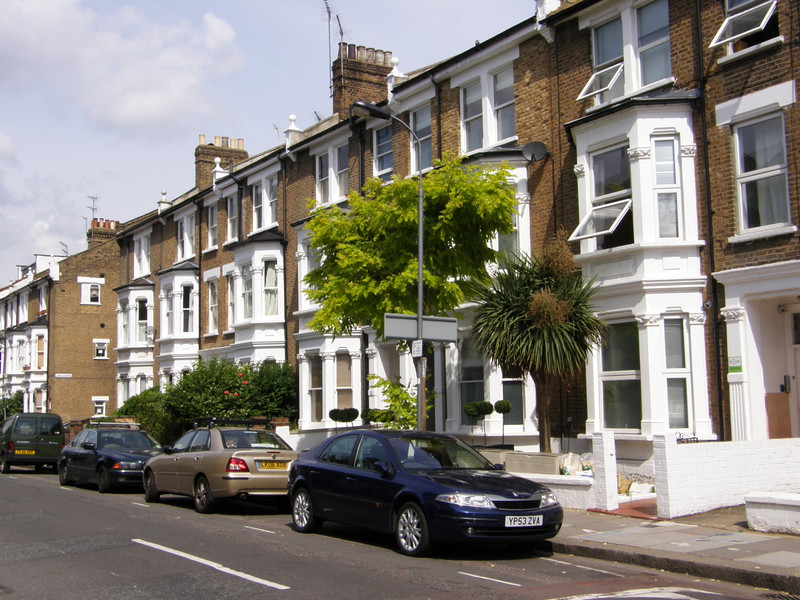 It gets a little easier to imagine a backwater Hammersmith as you head north to Brook Green, a lovely little green space, complete with pub, tennis courts and a respite from the traffic. Further peace can be found down the backstreets, along the northbound Tube line, and I have to say, these suburbs are charming. I'm as surprised as anyone whose only experience of Hammersmith is the shopping centre and chaotic King Street, particularly as it doesn't take much effort to get away from the chain stores and into delightful suburbia. It's all Victorian and Edwardian terraces round here, and the houses along Lena Gardens and Sulgrave Road positively gleam in the sunshine; there's clearly a pride taken in this area that gets smothered back in the throng, but out here, in the quiet suburbs, it's evident.
Goldhawk Road station can be reached by taking an easy-to-miss path off Sulgrave Road and following the line of the Tube, passing the railway arches to the London United Shepherd's Bush Depot, where buses come for a well-earned rest and cup of tea. The station itself is buried into the southern side of the bridge over Goldhawk Road, with a couple of modest entrances either side of the tracks.
Goldhawk Road to Shepherd's Bush Market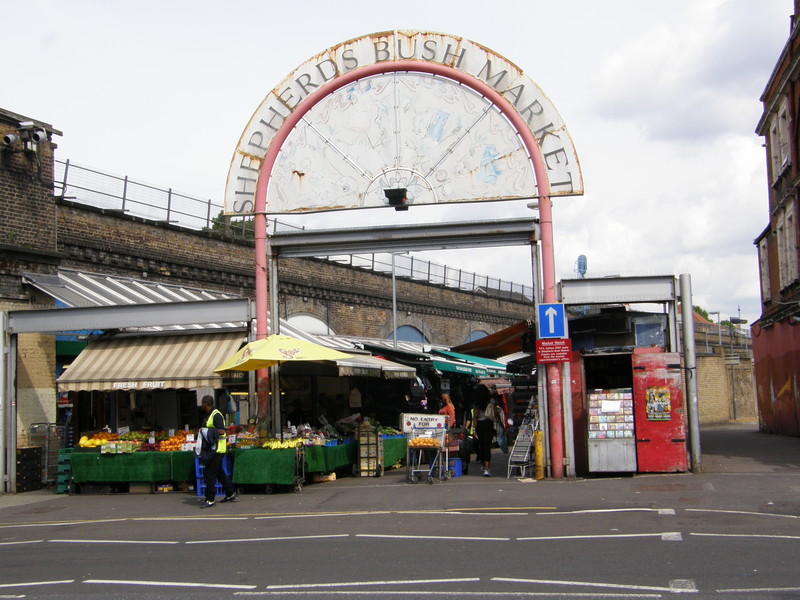 From Goldhawk Road, the most direct and interesting route is through Shepherd's Bush Market, a long, thin and very entertaining market that stretches all the way to the next Tube stop. The Tube is a dominating factor round here, passing alongside the market to the north along a high embankment, and towards the northern end of the market the arches come into play, revealing a whole street full of shops just on the other side of the railway. The market is fairly varied, with fruit, clothes, food and plenty of stalls selling cheap bric-a-brac; I'll remember it for the group of women in full burqas, excitedly examining gold silk underwear at the lingerie stall, proof that underneath our cultural exteriors, we're all humans.
Arriving at the Uxbridge Road is a bit of a shock after the pedestrianised bustle of the market, and Shepherd's Bush Market station, like Goldhawk Road, is tucked under the bridge, though at the northern end this time. Dating from the original opening of the line, the original Shepherd's Bush station was moved to this location and reopened on , at the same time as Goldhawk Road station. The station was known as plain old Shepherd's Bush until this year, when it was renamed to Shepherd's Bush Market, to distinguish it from Shepherd's Bush station on the Central line.
Shepherd's Bush Market to Wood Lane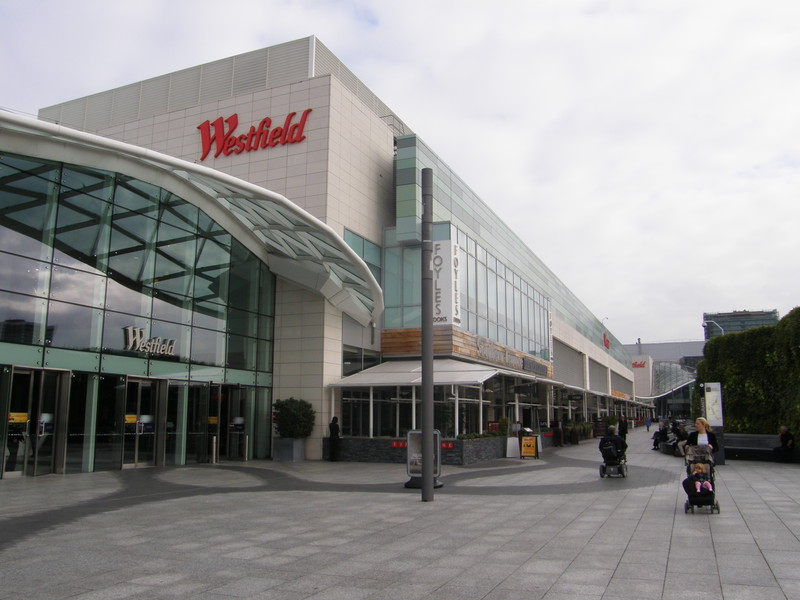 Just a short walk east from Shepherd's Bush Market station, you soon arrive at the corner of the common, and there it is, the big story round here: Westfield London. Dominating the space to the north of Shepherd's Bush, Westfield is the largest shopping centre in London (ahead of the Centrale in Croydon), the fourth largest shopping centre in the UK (behind MetroCentre in Gateshead, the Central Milton Keynes Shopping Centre, and Bluewater in Kent), and the largest urban indoor shopping centre in the European Union; or, to put it another way, it's the size of 30 football pitches with over 250 shops.
Unfortunately they don't like people with cameras in Westfield, and as I snapped a handful of shots of the glossy interior, the inevitable security guard strode over, waggling his finger and shaking his head. He gave me the usual weak excuse about terrorism and 7/7 bombings and said I would need a permit to take photos in the shopping centre, but when I explained what I was doing and promised not to take any more, he relaxed a little and we fell into conversation. I told him about all the stop and search forms I got during my original tubewalk, which cheered him up a bit, and he told me about a bomb that was found in Brent Cross shopping centre, and I sucked my teeth and nodded sagely, which he seemed to appreciate. He said if he caught me again then the company policy was to delete all the photos off my camera, so I told him I was leaving anyway and we parted company with a smile and a pat on the back. It could have been worse, I suppose.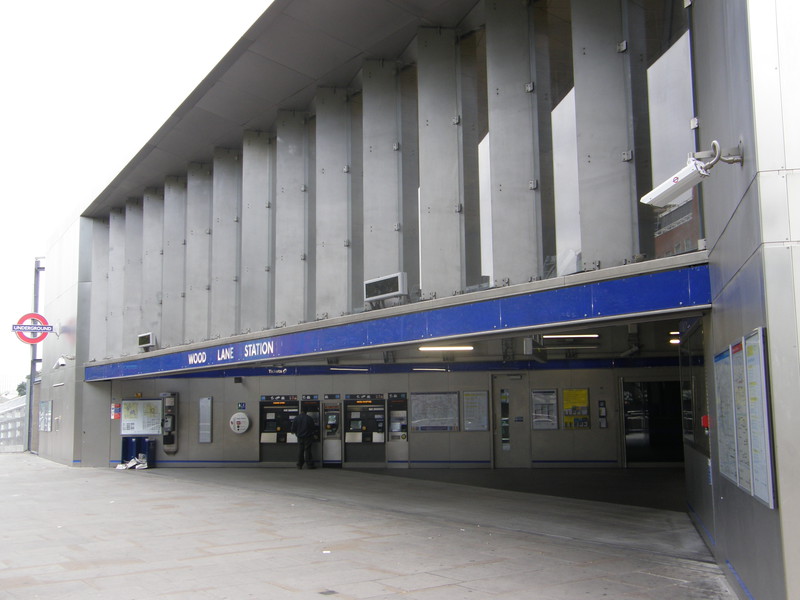 Wood Lane station is at the northern end of Westfield; I only missed it by a whisker when I did my original tubewalk in summer 2008, as Wood Lane opened on , exactly two years ago today. The front façade is an impressive 25m high, with tall panes of glass above a wide entrance and lots of brushed stainless steel and aluminium, and the angular entrance hall cleverly prevents any thoughts of blockiness, despite the modern design.
Wood Lane to Latimer Road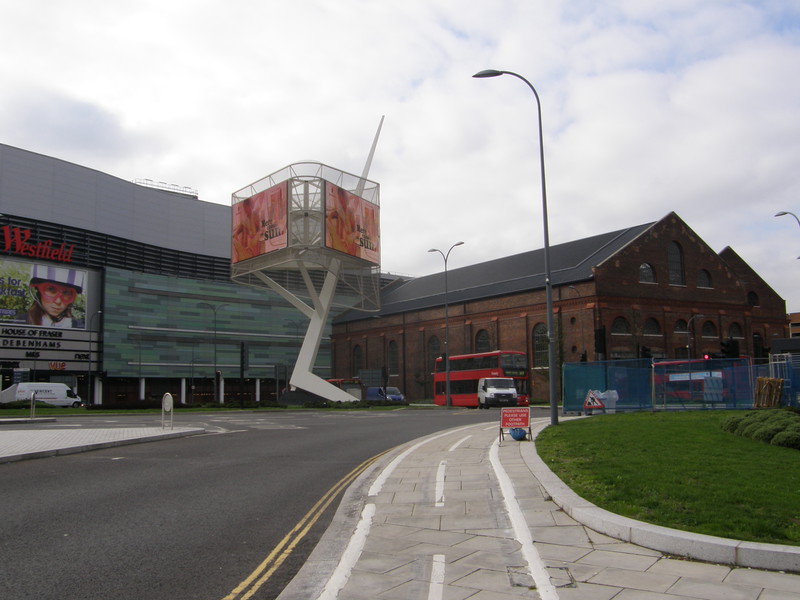 Slipping back to Westfield from Wood Lane station, there's an interesting clash between the ultramodern White City bus station, built as part of the Westfield development in 2008, and the huge Grade II-listed red brick Dimco buildings that tower over the bendy buses. Originally built in 1898-9 as an electricity generating station for the Central London Railway (which became the Central line), the buildings later fell into disrepair, but because they're listed, they couldn't be knocked down and the shopping centre had to be built around them. They've since been refurbished and are used as an overnight garage for buses; fans of the film Who Framed Roger Rabbit? may also recognise them as the film location of the Acme Factory.
Leaving Westfield behind, there's a set of stairs and a lift that take you over the busy A3220 and down into the kind of housing that I enjoyed on my original walk from Shepherd's Bush Market to Latimer Road. This is a land of contradictions: there are grey tower blocks right next to pleasant cul-de-sacs, huge office complexes rubbing shoulders with quiet café squares, and as I took a photo of the junction of Bramley Road and St Ann's Road, I fell into conversation with an Israeli man who was hobbling along the road.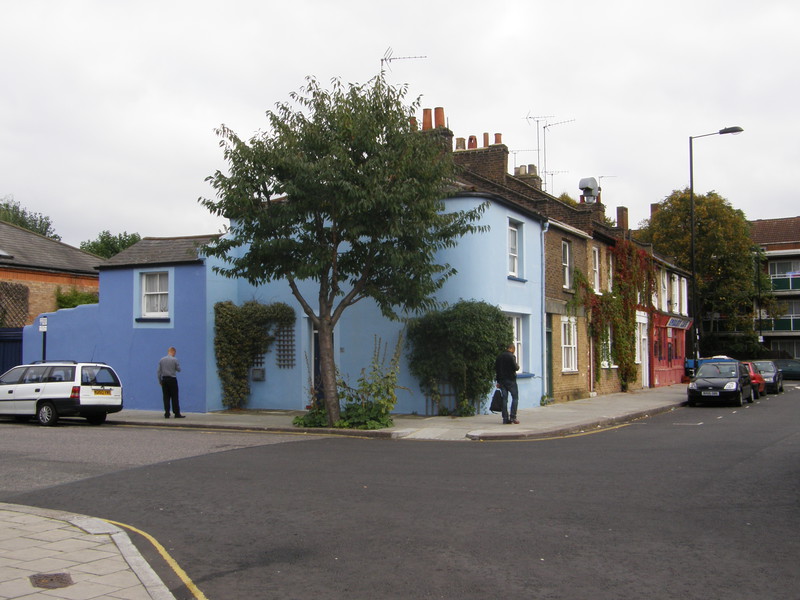 'Don't take my picture!' he said, waving his arms and grinning. 'I'm a wanted man!'
'That's why I was waiting,' I smiled back. 'Wouldn't want to get either of us to get in trouble, eh!'
'Heh,' he laughed. 'Why are you taking a photo, anyway? It's not much to look at.'
So I explained my tubewalk to him as we wandered towards Latimer Road station, and he looked at me as if I was mad.
'Have you been drinking?' he asked.
'No,' I said.
'Blimey,' he said.
'Have you?' I asked, grinning.
'Oh yes,' he said, and laughed as I took a picture of the local pub. 'Ah well, at least one of us is sane.'
'Indeed,' I said, not sure which one of us he was referring to, and he headed off down a side street, laughing to himself as I ducked into Latimer Road station.
Shepherd's Bush Market to Latimer Road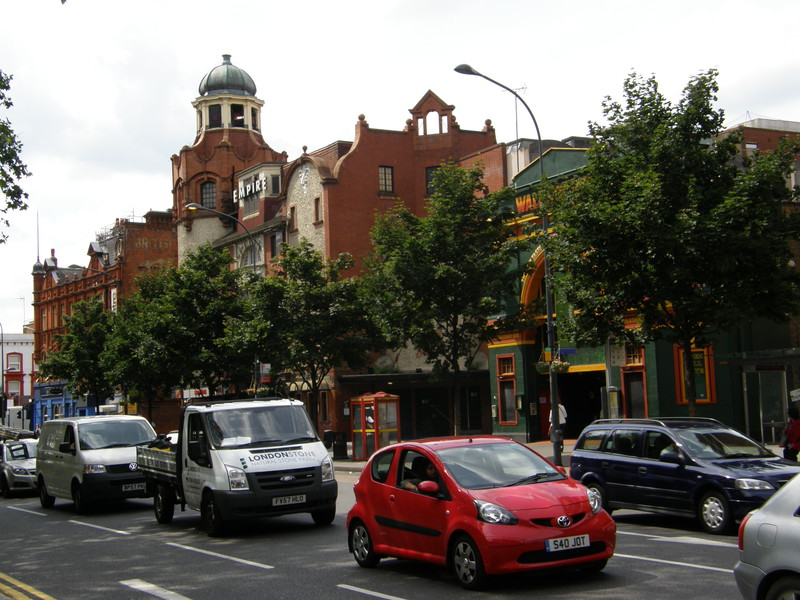 Between Shepherd's Bush Market station and Latimer Road, the theme is traffic, and lots of it. Shepherd's Bush is a much-maligned suburb, and I think it's probably down to the constant din of cars, vans and trucks crawling their way round Shepherd's Bush Common. It makes it impossible to appreciate the breathing space of the common, as it's hemmed in on all three sides by horns blaring and the acrid wafting of exhaust fumes, but if you can shut out the noise and look around you, Shepherd's Bush isn't as bad as its reputation would imply.
The Shepherd's Bush Empire hides behind the traffic on the western edge of the common, its amazing history not evident from the road. Used by the BBC from 1953 to 1991, this was where shows like Wogan, Crackerjack, Hancock's Half Hour, The Old Grey Whistle Test, That's Life!, The Generation Game, The Basil Brush Show, Juke Box Jury, This is Your Life and Jim'll Fix It were recorded, and since the BBC left the building, it has hosted gigs by the likes of Radiohead, David Bowie, Neil Finn, Elton John and the Rolling Stones, despite (or perhaps because of) its small capacity of only 2000. Clearly the noise of the traffic doesn't penetrate to the inside, which is quite an engineering feat.
The route continues to the eastern end of the green and over the frantic Holland Park roundabout. The roundabout hosts the Landmark Tower, a large glass barometer that shows the current atmospheric pressure with blue-coloured water, and which was built to make the last bit of the London Ring Main, which was completed here. It's not a place to linger unless you're a car, but luckily it's only a short hop to Royal Crescent and the glorious architecture of St Ann's Villas.
This is a gorgeous part of London, with houses that are modest, yet clearly to die for. Elton John lives just off the road, down a side street, and there's a large Sikh gurdwara to the west, but it's the buildings along the southern half of the road that make the walking so enjoyable. The traffic is less fierce and the relief is palpable, and just as you're getting used to the lovely townhouses and intricately patterned brickwork, it morphs into an estate that's clearly not in the same league as the pop stars down the road... but it still feels pleasant, and kind of right, that everyone should be able to share this part of the world. The local estate pub, The Favourite, is an architectural disaster, it has to be said, but the grounds are clean and it's a welcoming area, all the way to Latimer Road station. Dating from 1868, this is yet another Tube station that lives in the base of the bridge carrying the line overhead.
Latimer Road to Ladbroke Grove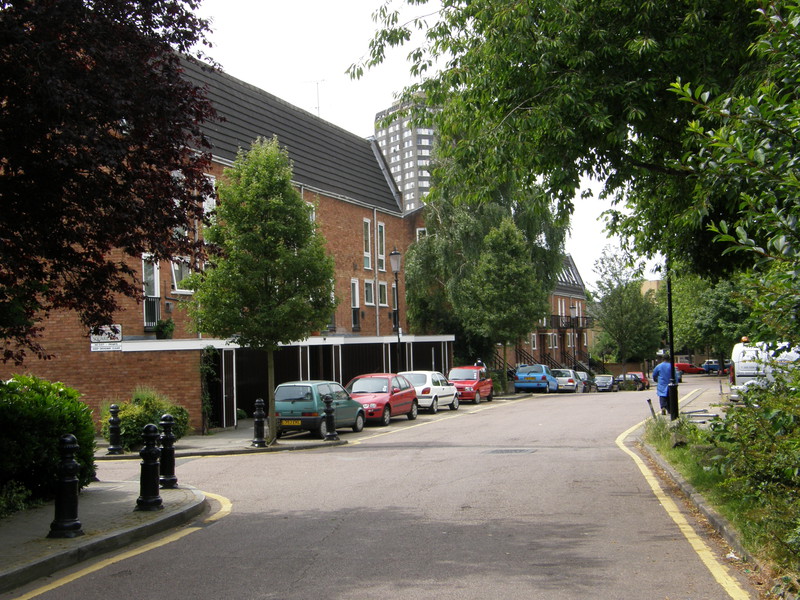 From Latimer Road the story is high-rise living, and every corner reveals another huge tower block, each of them different in some way. Unlike some parts of the city, where walking under tower blocks can make the blood run cold, this is an unthreatening and peaceful place, and it's an easy stroll to St Mark's Road. Turn left up here and left again, though, and you come to Bartle Road, which used to house a block called 10 Rillington Place. This was the home of one Reg Christie from 1938 to 1953, where he performed at least six murders (including that of his wife), and probably more. He was also widely thought to have blamed one of his murders on a neighbour, Timothy Evans, who was then hanged for this crime; the fact that the victim in this case was Evans's baby daughter caused a public outcry, and this helped contribute to the abolition of the death penalty in 1965.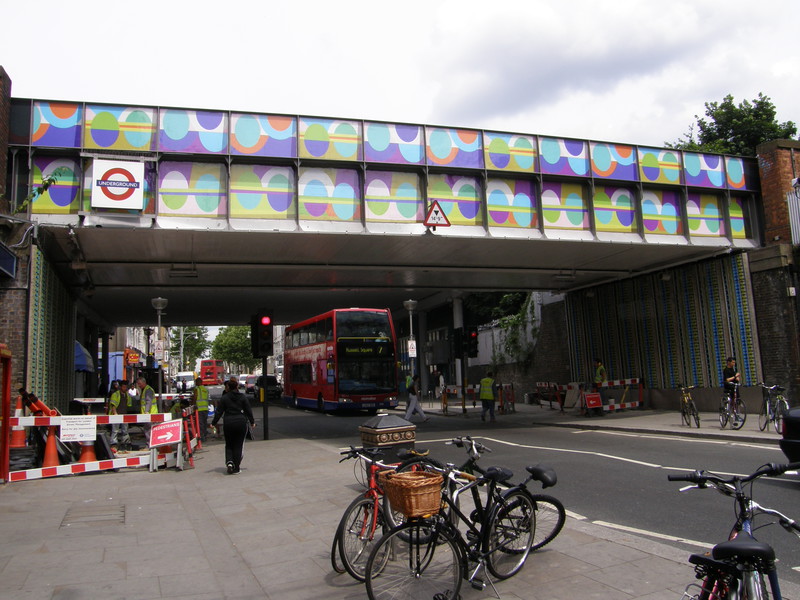 Luckily this is is all in the past, and the lovely houses of Lancaster Road soon give way to Ladbroke Grove, on which Ladbroke Grove station sits in a blaze of colour. Dating from the original line-opening in 1864, the station was known as Notting Hill, then Notting Hill & Ladbroke Grove, and then Ladbroke Grove (North Kensington), before it became plain old Ladbroke Grove in 1938, and this colourful past is reflected in the psychedelic tiling and paint-work on the bridge, which, as ever on this line, houses the Tube station. It's a bustling little part of the world, is Ladbroke Grove, and it's no surprise to find that one of Britain's premier psychedelic bands, Hawkwind, was formed round here in 1969. Far out!
Ladbroke Grove to Westbourne Park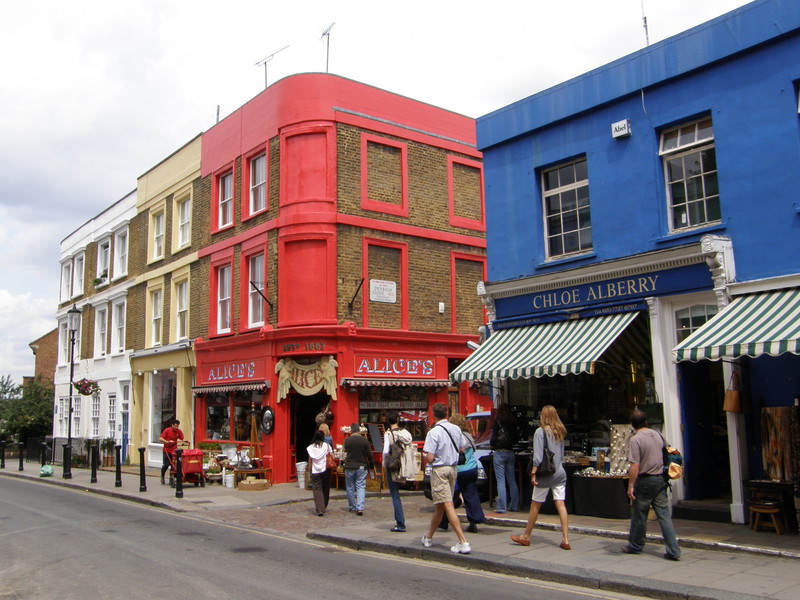 Heading southeast and up the hill along Ladbroke Grove is an exercise in architectural amazement. The estates of Latimer Road are well and truly left behind, because the buildings along the rising hill to Kensington Park Gardens are stunning. Crescents of gleaming cream Victorian town houses line the side streets, and it should come as no surprise to find that we've crossed into Notting Hill. Known for being affluent and fashionable – and made internationally famous by the eponymous Hugh Grant film – there is no doubt that Notting Hill is a lovely place to explore on foot. At every turn there is yet another gleaming block of Victorian excellence that you can't help but photograph; progress is slow, but dawdling is a pleasure.
Turning down Kensington Park Gardens takes you to Portobello Road, which is world-famous for its market. The market stretches all the way to Golborne Road, but the most picturesque part is between Chepstow Villas and Westbourne Grove, where you can hardly move for happy tourists clicking their way through the antique stalls and picturesque houses. This is the largest antiques market in all of Europe, but further up, the market switches to fruit and veg, and then to assorted items like CDs and souvenirs, before changing to clothing, and finishing with second-hand goods and various bric-a-brac. To say it is charming is an understatement; it's a delight.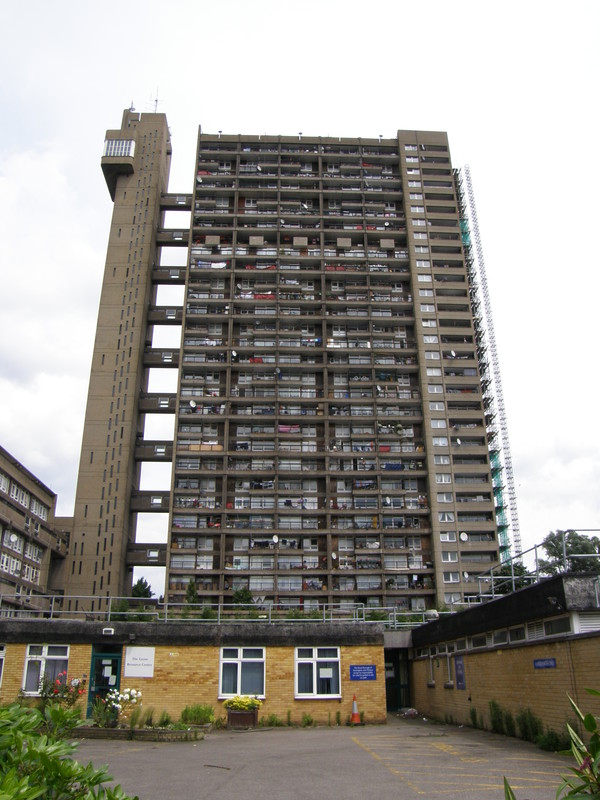 Turning from the end of the market into Golborne Road, the street stalls turn into food stalls, serving anything from curry to Chinese; hell, there was even an Indonesian warung there, the first I've seen since Indonesia. But the most impressive aspect of Golborne Road is the towering block at the eastern end: this is Trellick Tower, and its imposing structure is a familiar landmark. This 1972 creation was designed in the Brutalist style, and the style's name is well chosen, as it's a formidable structure. It's name-checked in one of my favourite Blur songs, 'Best Days', where the lyric goes 'Trellick Tower's been calling,' and the tower is now deservedly a Grade II* listed building, while the flats are regarded as highly desirable residences. It's certainly a difficult building to ignore.
Westbourne Park station is a short walk past Meanwhile Gardens and along the Great Western Road, and is stretched out along the road, with two entrances and lots of signs sticking out above the pavement saying, 'This queue is for the Underground only.' Dating from 1866, it's in a bit of a lonely spot, surrounded by railway and the pounding of the A40, though I guess it has a good view of Trellick Tower...
Westbourne Park to Royal Oak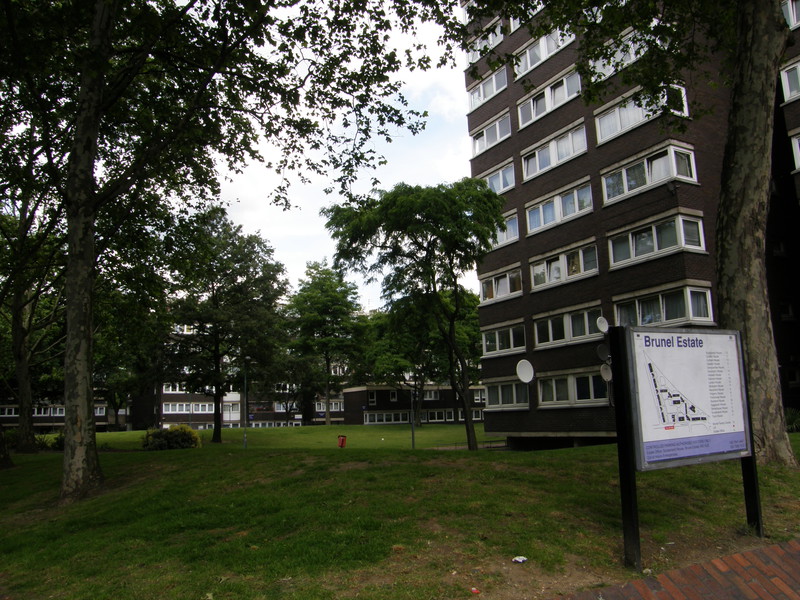 From Westbourne Park, the dominating factor is the Brunel Estate, a huge collection of black brick buildings that's run by the City of Westminster Local Authority. It's a slightly dark affair after the bright buildings of Notting Hill, but the houses along Westbourne Park Villas slip back into the more attractive vernacular of the area, despite being lined along the main train line into Paddington. One of the houses on Westbourne Park Villas was home to the poet and author Thomas Hardy, who lived here from 1863 to 1874. An even more pleasant alternative route might be to go along Westbourne Park Road, past the church, but however you get there, you've got to cross the garish bridge over the main line to reach Royal Oak.
Royal Oak station is the least-used station on the Hammersmith & City line, with 1.38 million passengers per annum, and it's not terribly surprising, as you can easily walk to Paddington from here. The station is almost invisible, hidden behind the red girders of the Porchester Road bridge over the railway line, which might also have something to do with it; whatever, it's another one to tick off before ducking back towards Paddington.
Royal Oak to Paddington (Hammersmith & City)
The backstreets from Royal Oak to Paddington are gorgeous, and it's hard to believe that you're so close to such a busy railway terminus. Gloucester Terrace, Porchester Terrace North and Orsett Terrace are again full of gleaming white townhouses, but it isn't long before you reach Bishop's Bridge Road and the corner with Eastbourne Terrace.
When I originally mapped out this area, I didn't know how to get into Paddington station, and specifically to the Hammersmith & City Tube station (like Hammersmith and Shepherd's Bush before it, Paddington has two very separate Tube stations: there's the Hammersmith & City station in the north of the mainline station, and the Bakerloo, District and Circle station to the south of the mainline station, in Praed Street). I'd assumed you turned east along Bishop's Bridge Road and there would be some kind of walkway or steps down from the road into the station, but I was wrong, and ended up going past the station, down North Wharf Road and into Little Venice, a detour neither I nor my slightly worn feet were expecting to take. I eventually found my way into the station and out the other side, back to where I'd arrived on Bishop's Bridge Road after the lovely terraces of Royal Oak... but at least I now knew how to tackle it, and this is how it goes.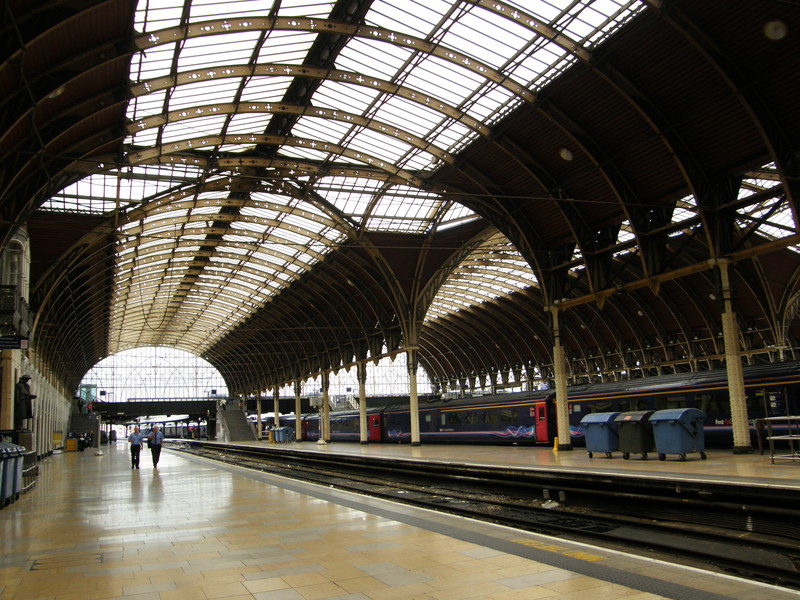 Head south down Eastbourne Terrace, and turn left into Paddington railway station through a small gate in the western side of the station, about halfway along its length. From here you can enter the main station and marvel at the amazing roof, designed by Isambard Kingdom Brunel and opened way back in 1847. Turn left and head to the northern end of the station, following signs for the Hammersmith & City line that take you up onto a gallery, from where the views of the station are even more impressive. And there, at the eastern end of the gallery, is the diminutive entrance to Paddington Tube station. From this point east, this is the oldest underground railway in the world, as although the Metropolitan line was the first line to open, the tracks that it used are now part of the Hammersmith & City line, so this section from Paddington to Farringdon is, technically, the world's first underground railway, opened by the Metropolitan Railway Company on .
Paddington (Hammersmith & City) to Edgware Road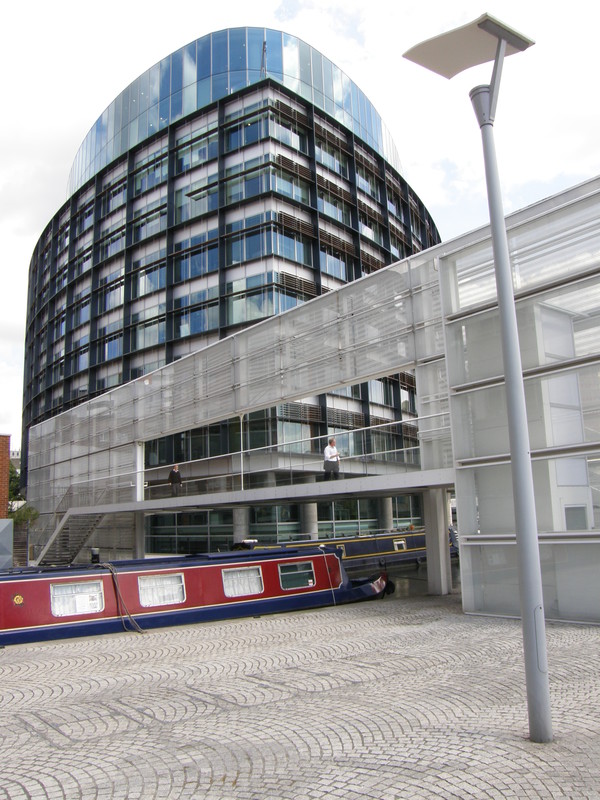 Heading past the Tube station, a quick left turn takes you up a sloping walkway to the Grand Union Canal, which starts here in Paddington Basin (or Little Venice, as this area is also known). Undergoing massive redevelopment, Paddington Basin is home to the headquarters of Marks and Spencer, who occupy a transparent building whose yellow lifts you can see into from the street (which is presumably a metaphor for transparency in business: after all, this is not just a see-through building, this is a Marks and Spencer see-through building). To get to the business end, you double-back at the bridge and go back along the canal before crossing a bridge to your left and joining North Wharf Road.
Construction work prevented me from skirting the basin itself, though I was able to dip into the basin every now and then to take a peek. The buildings round here are impressive, and when it's finished it should be quite a sight, but for now it's best to get back to Harrow Road as it cowers under the shadows of the Harrow Road Flyover. Peeking through from the other side of the road is Edgware Road station, but don't be distracted, as this is the Bakerloo line station of the same name: the Edgware Road station for the Hammersmith & City, Circle and District lines is to the right, along Cabbell Street, sitting proudly on the corner with Chapel Street, opposite the incredible red behemoth of Hyde Park and Oxford and Cambridge Mansions.
Edgware Road to Baker Street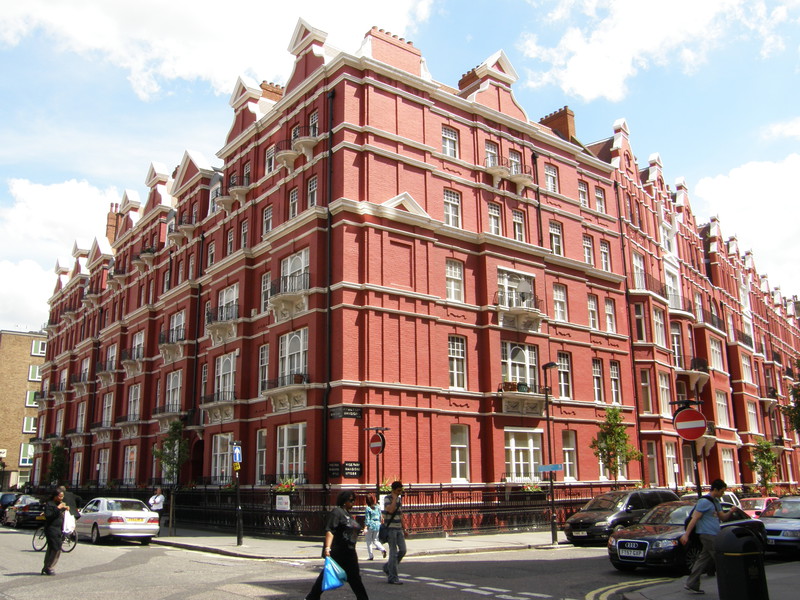 Although the direct route to Baker Street is along Marylebone Road, there's a much more interesting route down through the mansions of Marylebone. For a fan of buildings, like me, this area is a gold-mine, with amazing mansion blocks every few yards. They're all designed differently but they're all designed to be impressive, and it's a delight.
Starting with the aforementioned red monsters of Hyde Park Mansions and Oxford and Cambridge Mansions, the route takes you along Shouldham Street and right into George Street. The buildings are incredible, but they're pipped at the post (for me, anyway) by Montagu Square, and in particular number 34, at the northwest corner of the square. Ringo Starr leased Flat 1, the ground floor and basement flat, from 1965 to 1969, and although he soon moved out to live with his wife, Maureen Cox, he let an impressive array of people stay there.
The most exciting of these (for me, anyway) was Jimi Hendrix, who stayed there with Chas Chandler when he first came over to London, and threw paint at the walls during an acid trip (after which Ringo had to have the walls repainted). John Lennon also stayed there in 1968, after getting together with Yoko Ono and moving out of Kenwood, the house he shared with his wife Cynthia; the flat was raided by the London Drug Squad, where they found some hashish, leading to John and Yoko's arrest. Lennon pleaded guilty, leaving Yoko to go free, but she still miscarried their baby not long after. This event forced Ringo to agree not to let the flat out any more, and he sold his lease in 1969.
In Montagu Square I made friends with the local street cleaner, who spotted my map and assumed I was a tourist. He was a little surprised to find out I was from Ealing, while he hailed from Portugal; he was certainly happy to be cleaning the streets of Marylebone, and I can see why.
From Montagu Square it's a short walk up Upper Montagu Street to Baker Street Town Hall, which also houses the Westminster Register Office. This is where Paul McCartney married Linda Eastman on , and Ringo married Barbara Bach on ; clearly, this area is rich in Beatles history, which perhaps explains the Beatles shop just up from Baker Street station, a bit further along the Marylebone Road.
Liverpool Street to Aldgate East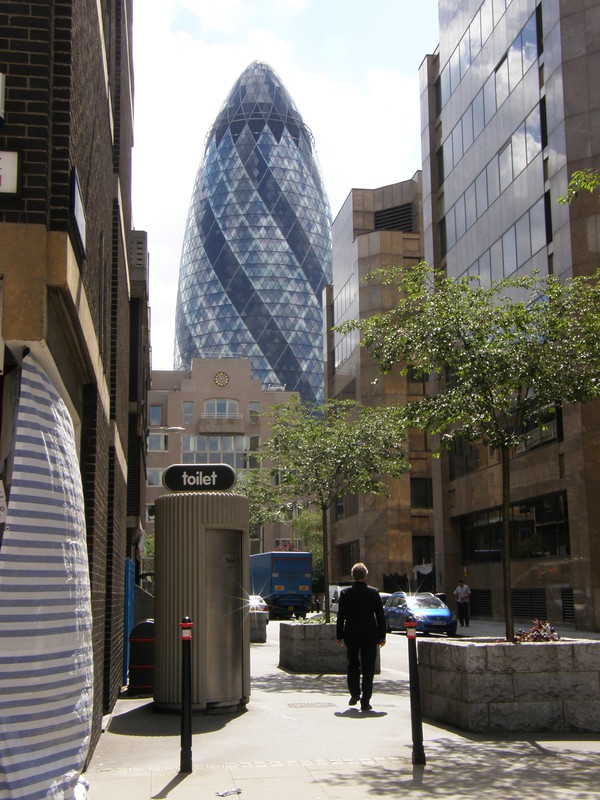 Finding your way out of Liverpool Street station is a challenge, and I didn't exactly manage to end up where I wanted to be. Still, nowhere is far from anywhere else in central London, and it didn't take long to find the traffic of Bishopsgate. It did take a while to track down Catherine Wheel Alley, though, as the entrance is miniscule and easy to walk past. It's worth the effort, however, because as soon as you're a few yards down this tiny alleyway, the noise of Bishopsgate disappears, and you're in a world of twists and turns that sneaks you through to Middlesex Street.
I like wandering through this part of the City, because the backstreets are fascinating. Swinging wildly between construction work, architecturally intriguing social housing, local pubs and sneaky glimpses of the Gherkin down side streets, the walk along Middlesex Street is typical of the City experience. There's even a street market in full swing down Wentworth Street, and it's a bit of a shock to reach the traffic piling along Whitechapel High Street towards Aldgate East station, the point at which the Hammersmith & City line joins the District line and heads east towards Barking.