I'm sorry to report that I've just finished my first uninteresting tubewalk, and I'm simply happy to be home. It wasn't a bad walk, by any means, but either I picked the dullest route possible from Harrow to Uxbridge, or this isn't a part of the capital that is particularly suited to long-distance walking. Yes, there were some pleasant spots, and I'm still glad I did it, but in the competition to answer the question 'What was your favourite part of the Tube?', I'm afraid the Uxbridge branch of the Metropolitan line won't be getting my vote.
However, I am pleased to have finished walking the entire Metropolitan line, as even including today's bland wander, it's been a great start to my tubewalk. The Metropolitan line has a fascinating city section, the wonderful Regent's Park and Primrose Hill, some truly lovely suburbs on the way to Harrow-on-the-Hill, and the classic English countryside of Chorleywood and Chesham. What more can you ask for? (Except for a high note to finish on, I suppose...)
Harrow-on-the-Hill to West Harrow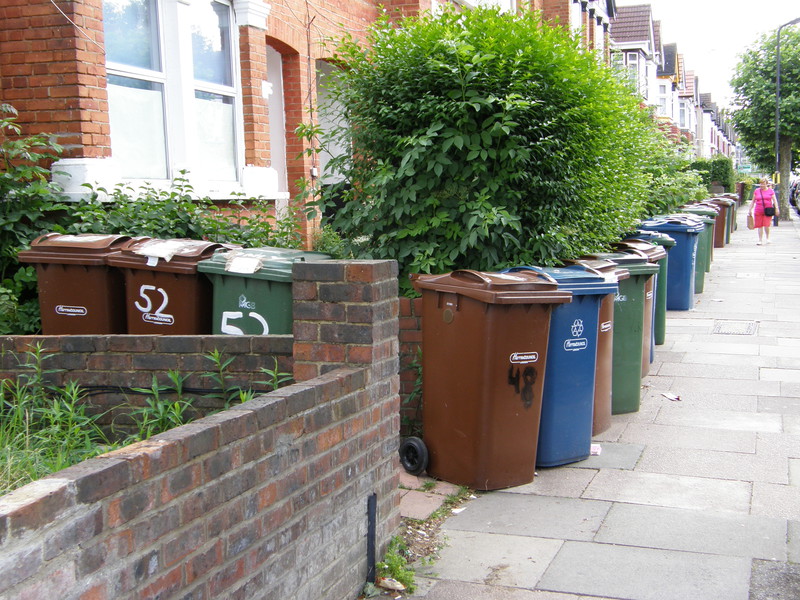 It's a short walk from Harrow-on-the-Hill to West Harrow, and a fairly urban one. Heading out of Harrow-on-the-Hill station, the A404 takes you to an underpass that goes under the A312, and which is best summed up by the fact that there are TV screens at all the entrances, showing what's going on at the exits. They weren't switched on when I walked through, as I assume they only put them on at night, but it's almost scarier walking into an underpass that has earned TV surveillance than walking into one in ignorance.
From the underpass, West Harrow station is down Vaughan Road, a pleasant enough suburban street that would, on a normal day, be a nice little walk, with its terraced houses with dragons on their roofs, and an intriguing green tin church tucked between the houses. Monday, though, is obviously bin day in Harrow, and although there were bins out on the main street, they looked like they'd invaded Vaughan Road with particular verve. Residents get three huge wheelie-bins out here – a green one for refuse, a blue one for recycling and a brown one for garden waste – and when they're all rolled out onto the pavement, it's an oppressive sight. On a positive note, I did come across a wheelie-bin cleaning service later in the afternoon, which was a good sign as even wheelie-bins can smell, but I still didn't hang around too long.
West Harrow station itself doesn't really look like a Tube station; it looks more like an eco-house, or a small library. I have to say I rather liked its modesty, and appreciated the way it fitted into the surrounding suburbs. Not a lot of Tube stations do that, really...
West Harrow to Rayners Lane
Not far from West Harrow station, along Wilson Gardens, is West Harrow Recreation Ground. It's a slightly functional park, with a lot of the open space given over to football, but parks are always welcome breathing spaces on a tubewalk, and this is no exception, particularly as it signals a noticeable drop in the standards of the suburbs: between here and Ruislip, things get slightly more faded and the paint peels a little more, though only in comparison to the delights of North Harrow and Pinner, which are just to the north. It's not nasty round here, just a little unloved.
Welbeck Road is not too bad and has some attractive houses dotted among the terraces, but the big change hits you at the footbridge over the Piccadilly Line, as this is where the locals like to dump their crap (and I'm afraid I do mean that literally). There are burned-out sofas, piles of DIY detritus, rusty beer cans from a whole range of countries, and noticeable amounts of dog shit. The bridge itself is smothered in artless graffiti and is home to yet more rubbish, and the estate on the other side of the line continues the theme, with rubbish spilled along the street and a palpable sense of nobody giving a shit. It saddens me to see people destroying their own community, but it makes me feel powerless; if people want to dump their rubbish in hidden corners of the city rather than take responsibility for their own lives, there doesn't appear to be a great deal that anyone can do about it.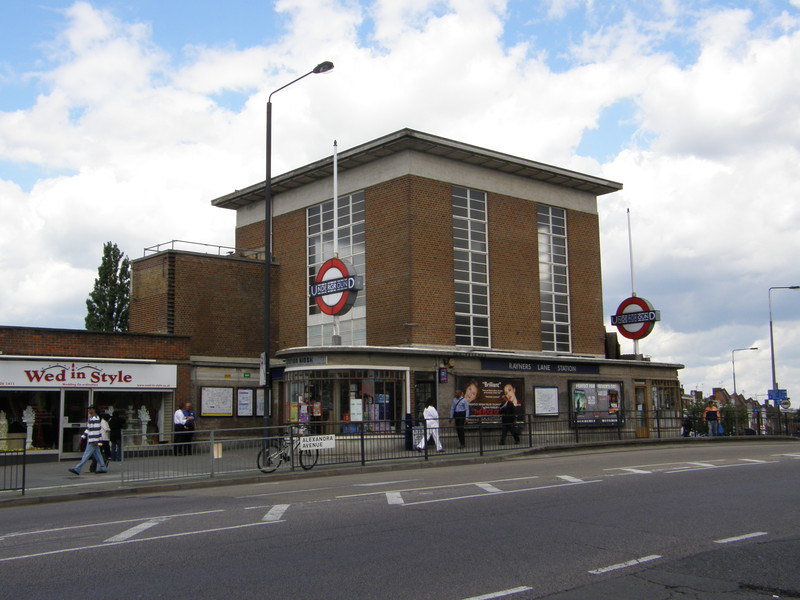 Rayners Lane station is a short walk along – you guessed it – Rayners Lane, past rows of mock Tudor and pebbledash houses and round the back of the flats overlooking the A4090. The station is a lot more obvious than West Harrow, with a large brick tower looming over the main road, complete with the same slatted glass windows that Harrow-on-the-Hill boasts (not surprisingly, as both were redesigned by Charles Holden in the 1930s in his signature style). It fits its surroundings as well as West Harrow, but this is a brash, loud main road, and this clearly requires a different kind of finesse, particularly as the station is just down the road from the old Art Deco cinema, now the European Centre for Zoroastrianism. It's an interesting area, if a little noisy from the traffic.
Rayners Lane to Eastcote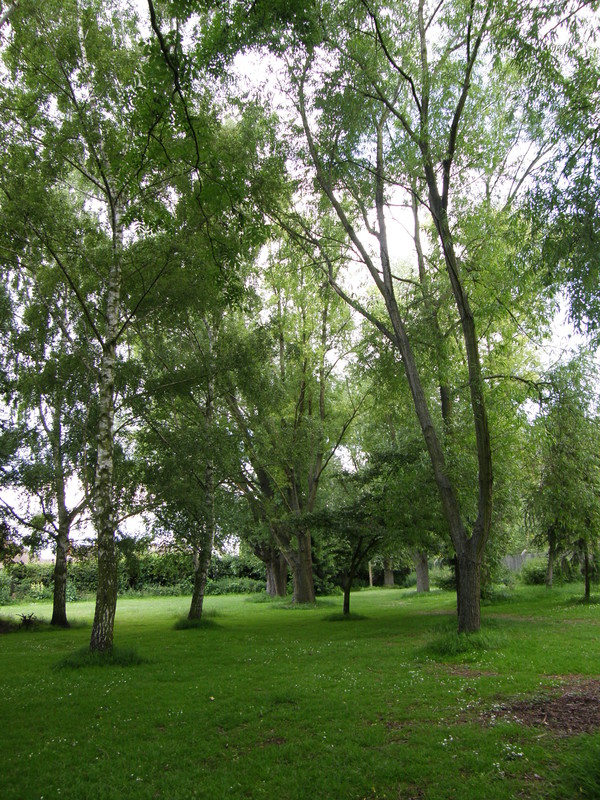 As Rayners Lane is one of the more major stops on this tubewalk, I figured I'd try to buy a sandwich here, to eat in Roxbourne Park, just down the road. This was trickier than I thought it would be, as Rayners Lane boasts a KFC, a Subway, some corner shops that don't stoop to sandwiches, a pub, and nothing else obvious that's of use to the walker looking for lunch. I made the mistake of not bringing my own lunch a few days ago, and ended up wandering around North Harrow, looking for a sandwich, only to discover that the sole option was a range of 99p sandwiches in a local corner shop; they tasted absolutely repugnant, my ham and cheese salad sandwich being packed with something approaching space shuttle food. This time I braved the Subway, having never dared before, and compared to the 99p sandwich option, it wasn't at all bad; I'll remember that next time I'm caught out with no lunch in a sandwich desert.
Roxbourne Park is an enjoyable park, with a large cricket pitch, a pig-ugly pavilion and enough space to explore. It's only a short walk north to the Yeading Brook Open Space and Pinner Village Gardens, which I visited on the way to Watford, and although Roxbourne isn't quite as pleasant as the parks of Pinner, it's a good spot for lunch. Unfortunately it's a bit of a trek to Eastcote station from the park, through some particularly uninspiring suburbia. I've enjoyed most of the suburbs I've explored so far, but I'm afraid the suburbs of Eastcote just don't do it for me; slightly faded and rather monotonous, they're worth passing through quickly to get to the station, which again sports a blocky tower with slatted windows, though with a slightly more modest stature than Rayners Lane.
Eastcote to Ruislip Manor
Heading south from the station along Field End Road, it's not long before you come across an impressive mock Tudor house on the right, with a drive that leads through to Cavendish Recreational Ground. The house, which I assume is a pavilion, overlooks another cricket pitch, and to the left of the boundary line the park opens up into Bessingby Park, with wide open playing fields and a path to the western entrance. Despite its size, the park feels a little hemmed in by the suburbs around, and feels more like two playing fields stuck together, than a manicured park (which is probably because that's exactly what it is).
The suburbs on the way to Ruislip Manor are fairly standard stuff, but once you hit Victoria Road, things hot up a bit, as this is a great little shopping street. OK, the shops aren't necessarily anything to write home about, but the layout is typically suburban, with shops along each side of the street, all housed in one long building, with flats above the shops. The red brick is quite charming, and it's a surprise after the slightly dull approach. Ruislip Manor station itself is a bit of a letdown after the proud towers of Rayners Lane and Eastcote, as it's tucked away under the bridge carrying the Metropolitan line over the main road and looks like it's trying to hide from view, but perhaps this is a blessing, as Victoria Road is enjoyable enough without another red brick and glass tower.
Ruislip Manor to Ruislip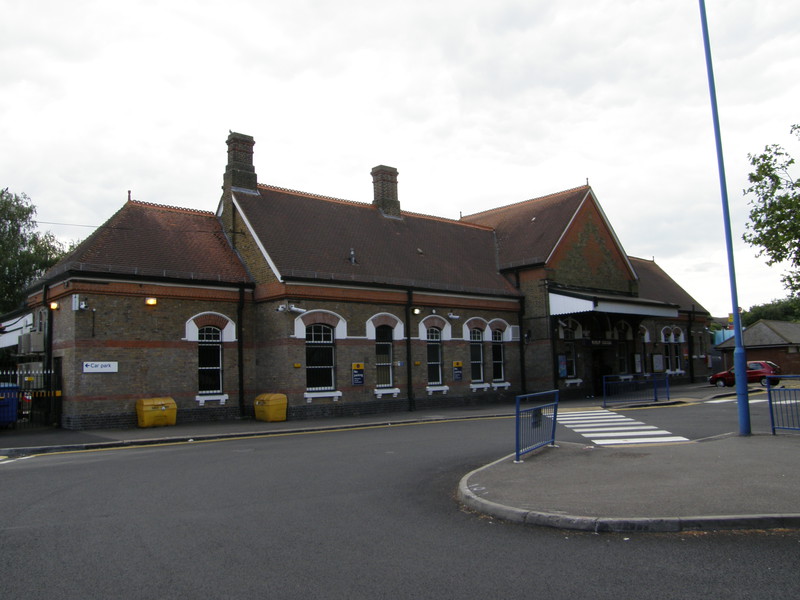 It's hardly any distance from Ruislip Manor to Ruislip, which makes you wonder why they bothered to build the former; Ruislip opened in 1904 and Ruislip Manor was added in 1912, an indication that Ruislip grew considerably in the meantime. When mapping out this walk, I tried to find a more interesting route between the two stations than simply following busy Pembroke Road from one to the other, but there's nothing particularly obvious in the area to break up this leg, and after walking it, I think I was probably right.
Ruislip station itself is hidden away from the main road down a cul-de-sac that buses have made their own, and even though the station is impressively large and built to look like a proper train station, there's not a lot to make you linger.
Ruislip to Ickenham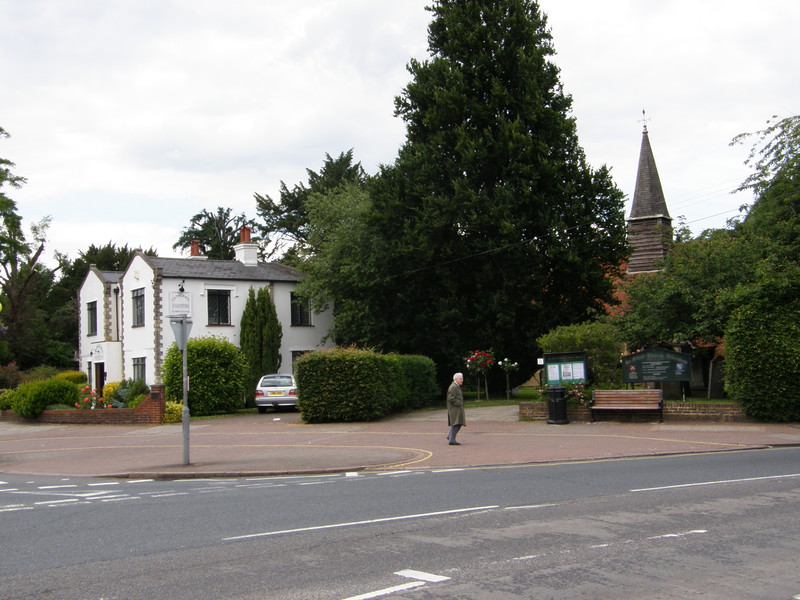 Along Kingsend, the houses improve, switching from the faded suburbia of Eastcote to the detached and clearly expensive homes of the well-to-do. It doesn't last too long, though, as Ickenham Road provides another relatively uninteresting section along a busy B-road, past West Ruislip station (the western terminus of the Central line, which I will be visiting at a later date) and down into Ickenham itself.
The centre of Ickenham is actually rather charming, with two welcoming pubs, a pleasant high street, and a round shelter, stranded in a sea of cars; Ickenham station itself is a short detour up a side road. Strangely there are no signs pointing you towards the Tube, and it's perhaps not surprising, as the station is a very low-key affair indeed. It was demolished and completely rebuilt in the 1970s, and it looks like it; it's completely unremarkable and rather sad, tucked away along a backstreet and looking for all the world like a cheap clubhouse rather than a railway station.
Ickenham to Hillingdon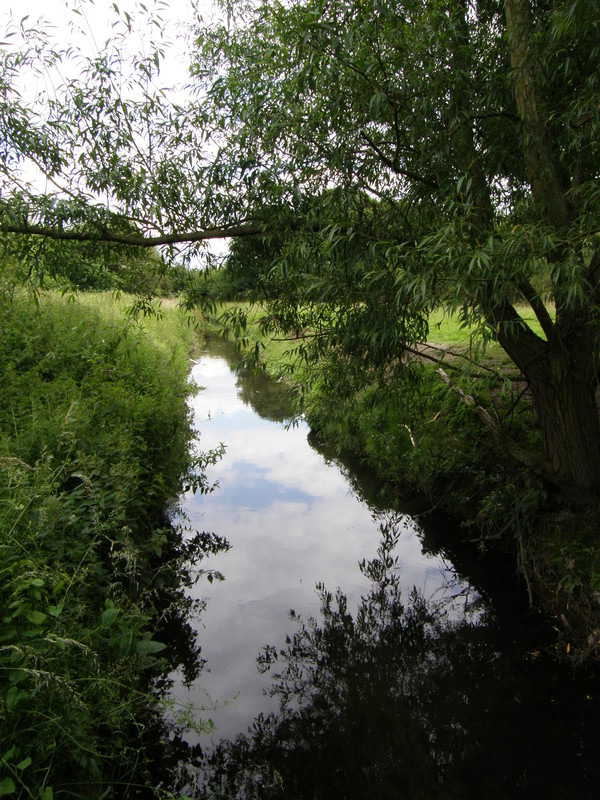 From Ickenham, things improve, for a while at least, for this is where the Hillingdon Trail plies its trade. It starts in Cranford, to the south, and heads north to Springwell Lock, not far from Rickmansworth, and although I only joined it for a short section down to the manic A40, it was lovely. Sandwiched between green fields (which sport signs saying that this is private land, so no motorcycles please), the trail plods along a leafy country lane for a while, before reaching the Yeading Brook, which blocks your path. It looks as if there is a path straight ahead, over a bridge, but alas this is fenced at the end, so you have to make a choice: left or right.
Unfortunately the local retards have attacked the two information panels at the entrance to the bridge with their spray-cans, blotting out any hints as to where the Hillingdon Trail goes at this point, and the only other sign simply tells you that there's a footpath to the left and a footpath to the right, which is rather obvious. A couple of stick-on markers on the signpost pole seemed to point left, but I checked the map and the Hillingdon Trail turns right, along the brook, so I'm guessing that the friendly locals have also rotated the signpost through 180°, a joke I first enjoyed when getting lost on day 1 of the Capital Ring. Ha bloody ha, lads; I just hope you're happy down there at the bottom of the gene pool.
After some more enjoyable field walking, there's a bit of a shock. Low-flying planes coming in to land at nearby RAF Northolt suddenly appear overhead, even managing to drown out the increasingly loud drone from the A40, and before you know it the main western route out of London is there, straight ahead. Luckily the Hillingdon Trail nips under the A40 and its feeder road, because there's no way you could cross here; it knows it's about to turn into a motorway, does the A40, and it already means business. Instead a couple of graffiti-laden tunnels and a relatively peaceful cycle lane alongside Western Avenue take you to Long Lane, from where a right turn and some pedestrian crossing shenanigans bring you to Hillingdon station.
It's worth going into the station, which is actually at the other end of a long walkway. Not only are the views from the walkway impressive (though only in the sense that the A40 is a scary and noisy beast below you, and is therefore worth staring at, if only in terror), but the station is delightful. The original Hillingdon station, which was opened a little bit further north along the line in 1923, was the last new station to be built on the Metropolitan line; the new station, however, was opened in 1992, and that same year it won the Underground Station of the Year award. The station is light and airy, being made of glass and steel, and it's a strange place to find such a delightful piece of architecture, perched over the rumbling bowels of the A40, and seemingly miles away from anywhere.
Hillingdon to Uxbridge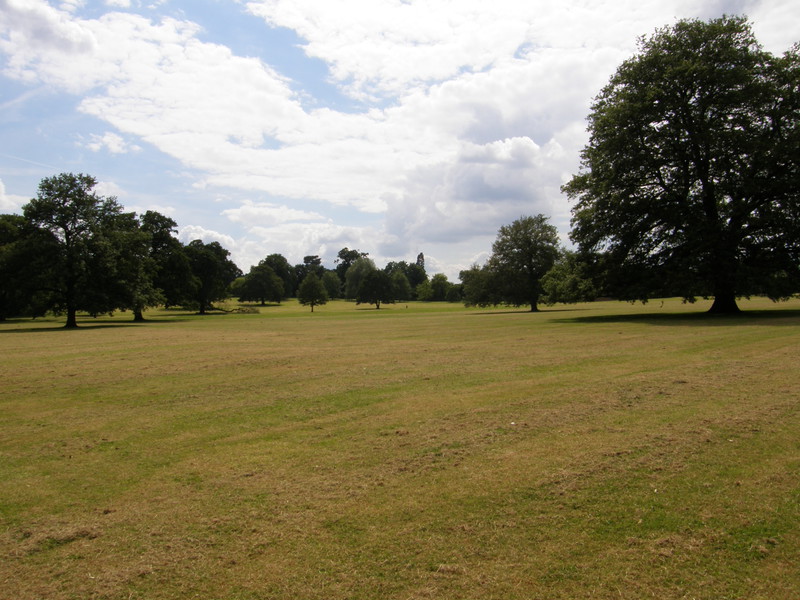 I found the final stretch to Uxbridge deeply frustrating, perhaps because I spent ages trying to get round a large and stubbornly fenced-off RAF base, unable as I was to track down a right of way that was clearly marked on my Ordnance Survey map, but which seemed to be inaccessible from the road. Luckily, before that I enjoyed some quality time in Hillingdon Court Park, a large and luscious park with some massive trees and plenty of room to breathe, but perhaps it lulled me into a false sense of security, because it was just after leaving the park that things started to go wrong.
I'd wanted to walk round the edge of the Hillingdon Microwave Radio Relay Facility, because technology interests me, and it sounded like a good place to head for. I was wrong, because this whole area is fenced off behind thick, green steel fences, and although I'm pretty sure the green dashes on my map weren't lying, I couldn't find my way to the right of way that I could clearly see on the other side of the fence; so, for the second time on the Metropolitan line, I had to give up on a right of way. I don't like doing this, because rights of way should be obvious and usable by the public, but my irritation gave me enough strength to stomp around the suburbs of east Uxbridge, looking for an alternative. I marched into a housing estate, only to bump up against more green fence, and it was only on the way back to the main road that I realised this must be RAF accommodation... though, come to think of it, I'm not sure how I knew this, it was just, well, obvious. Strange.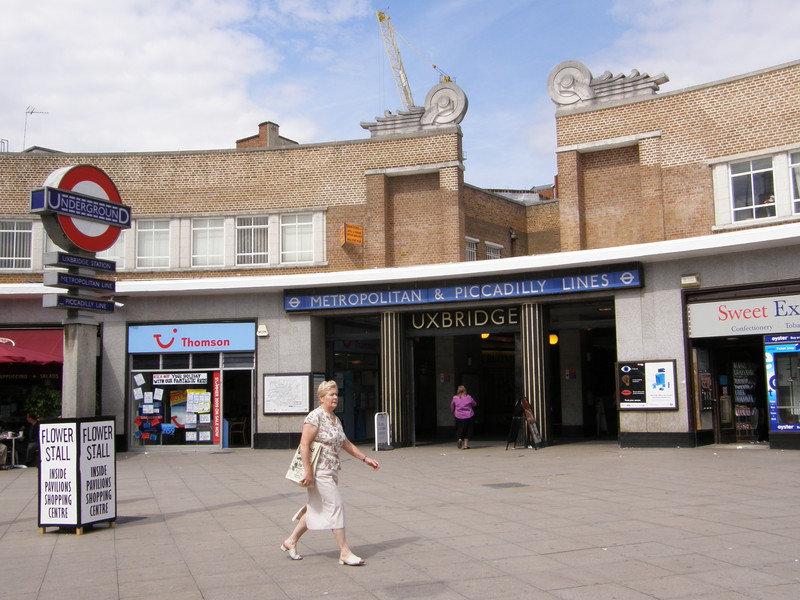 Happily, once I'd calmed down and stopped kicking every stone I could find, I started looking around me and realised that the houses of east Uxbridge are quite delightful. Honey Hill is simply lovely, with some charming late Victorian semi-detached houses (complete with dates carved in the stonework) and Uxbridge itself continues the theme, with impressive office blocks that haven't been battered with the ugly stick, and a pedestrianised high street that's packed with shops, pubs, statues and a good vibe. Uxbridge station, another Charles Holden effort, is an impressive building, particularly inside, with four Tube lines heading out from under a large glass canopy roof. It's a fitting end to a long walk that isn't terrible... but isn't that exciting either.