I guess this walk is best summed up by the following report from today's London Paper.
'Monsoon' in Capital

Monsoon-like conditions hit the capital today, as forecasters warned half a month's rain could fall on London in just 24 hours. A Met Office spokesman said, 'It's thoroughly wet and miserable.'
I can vouch for the last bit; it certainly was wet and miserable out there. However, I was joined for this section by my good friend Bill, and it's amazing how good company in the face of climactic adversity makes everything seem all right. Yes, we got completely soaked, as the rain didn't stop for one second, but this is an interesting tubewalk and even in the rain it's worth doing. Just remember your umbrella; Bill didn't, and by Highgate the rain had reached his boxers... and you never want that to happen, believe me.
Euston to Mornington Crescent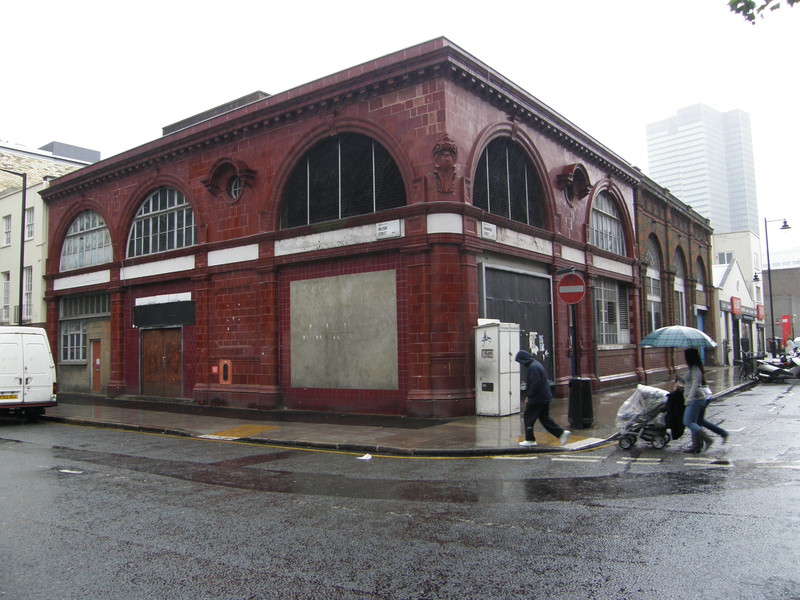 Turning north from the concrete forecourt of Euston station – which looks fairly drab in the rain, with its washed-out picnic tables and penchant for pebbledash grey – we headed past the now disused Tube station from the original opening of the Charing Cross branch of the Northern line, then known as the Charing Cross, Euston & Hampstead Railway. The distinctive Leslie Green design of ox-blood red terracotta tiles is still evident in the building on the corner of Melton Street and Drummond Street, though all the markings have long since gone. It's a short walk from there to St James Gardens, a small wedge of green among the monoliths, but this isn't the most beautiful part of London, especially in the rain; however, if you look behind you when walking up Hampstead Road, you do at least get a good view of the BT Tower rising in the distance, and for fans of the tower (like me), it's always a comforting sight.
Looking forward and to your left, you soon pass the very impressive Carreras Building (now known as Greater London House) on the other side of Hampstead Road. Dating from 1926, it is one of the best-known Art Deco buildings in London, and at 168m long and with architecture inspired by the Egyptian temple of the cat-goddess Bastet, it's quite a sight.
Mornington Crescent station sits on the junction of Hampstead Road and Eversholt Street, surrounded by busy traffic. The location might be a bit hectic, but the station building is clad in the familiar blood-red tiling of the Charing Cross, Euston & Hampstead Railway, and as such it's a distinctive building, sitting there are the bottom of Camden High Street. There's a paved triangle in the middle of the junction with some seats and a statue, which would be a pleasant resting spot in the sun, but in the driving rain it's perhaps not the best place to stop, so we didn't.
Mornington Crescent to Camden Town
The quickest way from Mornington Crescent to Camden Town is along Camden High Street. It's a bit of a grungy street, not unlike the rest of Camden, but it has a decent range of shops, and if you look along the tops of the buildings (something we rarely do when out shopping) there are some interesting period designs to be seen. Camden is a trendy area, which means its fans positively enjoy the slight air of decay about the place. Others might not be so impressed, though I rather enjoy it.
I used to work on Bayham Street in the building that now houses Getty Images, so we took a detour to see if much has changed. It hasn't, despite it being some 15 years ago that I was Technical Editor on Acorn User. Working here was my first introduction to working in London, and I loved it; I was at the perfect age for Camden, and we got on well. The office is still there, with different occupants, but I think I'm perhaps a little too old to appreciate Camden in quite the same way as I used to in the early 1990s; I don't think my liver could cope with that style of living any more...
Camden Town station is again done up in the ox-blood red livery of the Charing Cross, Euston & Hampstead Railway and, like Mornington Crescent, it sits on a busy junction at the end of the High Street. Opposite the station is the World's End pub, said to be the largest pub in England, and the whole area is spattered with kebab restaurants and fried chicken outlets. It's perfect for students, but a little passé for those of us approaching 40.
Camden Town to Kentish Town
We took a wrong turn off Kentish Town Road and ended up walking towards Camden Lock, but that particular delight is reserved for my jaunt from Camden Town to Edgware, so we retraced our steps and ended up in the backstreets of Kentish Town. This is a land of large council estates, some of them deeply impressive buildings that tower over the main road, despite sitting back from the street behind car parks and gardens. Of course, there are also some rather uninspiring examples of housing round here, some peeling so much paint that they're presumably only good for squatting, but even in the gloom of a constant downpour, this isn't a horrible place.
Indeed, as you head north along Anglers Lane, the side roads reveal some lovely terraced houses, and although the urban character of Camden is still very much in evidence, you get the feeling that things are improving all the time. Kentish Town station, another ox-blood red building, sits on Kentish Town Road, right next to a glass-roofed shelter, which proved very handy in the continuing downpour. There are views west towards the rolling green hills of Hampstead Heath, where I'll be walking on my tubewalk from Camden Town to Edgware.
Kentish Town to Tufnell Park
I'm glad I designed such a rambling route between Kentish Town and Tufnell Park, because it gave us the chance to explore the beautiful suburbs of Tufnell Park, something that would never have occurred to me otherwise. The reason for the long-winded approach was simple: I'd heard that the flat from Spaced – the cult TV show starring Simon Pegg, Nick Frost and Jessica Stevenson before they went on to receive international acclaim for Sean of the Dead – was round here somewhere. I typed the address into Google Maps, stuck the marker on my map, and designed an appropriate route through the suburbs. Unfortunately Google Maps got the right road, but the wrong end of it, so my carefully plotted jaunt soon fell apart, not helped by the fact that I'd wanted to take a short-cut through an estate on Torriano Avenue, but couldn't find any way through.
Never mind, for there are some lovely parts of Tufnell Park, and the walking is delightful, even in the rain. The first such delight is Torriano Cottages, a hidden backstreet off Leighton Road that hides 15 lovely Victorian cottages (though it also hides the kind of people who give you wicked stares if you wander down their lane with a backpack and camera, so don't hang around or the twitching net curtain brigade will probably get you). Torriano Avenue, just round the corner, is another desirable area, though it's not as attractive as I'd expected from descriptions I'd read on the Web (apparently the actor Bill Nighy, who played Sean's step-dad in Sean of the Dead, lives round here, and there's quite a social scene around the local pub, though perhaps not on a wet Wednesday morning).
23 Carleton Road was the house used for outside shots of the flat in Spaced, and it signals a change in the quality of housing. Until this point most of the roads are lined with estates – quite pleasant ones, but estates nonetheless – but from here the architecture improves considerably. Impressive terraces line the roads, and although some parts could perhaps do with a little attention, the overall atmosphere is one of good, solid housing that will be here for an awfully long time to come. They don't build them like they used to, and Tufnell Park is a good example of why, perhaps, they should.
Tufnell Park station is, of course, covered in ox-blood red tiles and sits on a road junction, a consistent theme along this part of the world's first Tube line.
Tufnell Park to Archway
From Tufnell Park, things just get better and better as you head up towards Highgate. The houses get bigger and more impressive as you move into Dartmouth Park, the area named after the Earl of Dartmouth, who bought the land here in the mid-18th century. You soon join the southern perimeter of Highgate Cemetery, with the odd grave peeping through the thick trees, but the real show starts when you reach Holly Village, a bizarre but attractive collection of nine Gothic cottages on the corner of Chester Road and Swain's Lane. This is the bottom corner of the cemetery, and while walking north up Swain's Lane, make sure you look left at the private Holly Lodge Estate. Huge blocks of Mock Tudor housing line manicured streets, and the streets are closed off with chained gates (one of which has obviously been driven into by someone trying to leave the estate at speed while not concentrating very hard). Each road has a different style – Mock Tudor flats, Mock Tudor terraces, Mock Tudor houses and so on – but you've probably guessed the common theme. This is Mock Tudor heaven, in a prime spot overlooking the cemetery, and I guess you either love Mock Tudor... or you don't.
Highgate Cemetery is one of the few places in London that is more atmospheric in the rain, and I'm glad we (or, rather, Bill) paid the £3 per person entrance fee. I'm even more glad we bought a photocopied grave guide for £1, because alongside the impressive grave of Karl Marx (the biggest draw-card and well worth the effort of a visit alone), there are two graves here that I didn't know about, and I'm delighted to have stumbled upon them.
The first is Richard Smith's grave, or 'Stoney' Smith as he was known. And why is this man important? Well, to quote his gravestone:
'Stoney' Richard Smith, – , of Stone in Staffordshire, Macclesfield in Cheshire and London. After years of patient investigation he patented on the his improved treatment of the wheat germ and broken wheat which made the manufacture of Hovis bread possible.
I can practically hear your apathy, but bear with me, because I'm from Stone in Staffordshire, and to find out that one's small home town produced the man who invented modern bread manufacturing – someone who was clearly important enough to be buried in Highgate Cemetery – is a surprise that brightens up even the rainiest of days. So what's that feeling? It's provincial pride, that's what it is, and I revelled in it as the rain dripped down my neck.
The second was the grave of Douglas Adams, author of The Hitchhiker's Guide to the Galaxy. I used to work for Douglas back in the dot-com boom, when I was the Editor of the Earth Edition of The Hitchhiker's Guide to the Galaxy (or h2g2 for short), and although he was rarely around – instead spending most of his time in California, trying to get a film made of the book – he would be around for the odd lunch, and he was a fascinating person and very inspirational. His grave is extremely plain and I would never have found it without the map; it's a small, granite block with the simple inscription 'Douglas Adams, Writer, 1952-2001'. It doesn't say 'So long and thanks for all the fish', but then, that wouldn't have been his style.
There are plenty of other fascinating graves in Highgate, and grave-hunting is a great pastime. You can tell a lot from the messages people leave (or don't leave) on their graves, and whenever I'm hunting through cemeteries, I can't help but remember my favourite gravestone quotation of all. It's from an interview with Noel Gallagher in the documentary The Who: Amazing Journey, when he's talking about the fantastic John Entwhistle bass solo in 'My Generation':
Amazing. The great solo in 'My Generation'. If you could write that in words, that's what you'd have on your gravestone.
Too right, Noel. I couldn't put it better myself.
Next door to the cemetery is the enjoyable Waterlow Park, which is pleasantly landscaped and is no doubt a delight in the sun; in the rain it's a little gloomy, but it's still worth the detour. The busy traffic of Highgate Hill takes you down to Archway station, by which time the architecture has morphed back into council housing and ugly high rises, none more ugly than Archway Tower, which sits on top of the Tube station like a dark nemesis. It's horrible in much the same way that Colliers Wood Tower is horrible. Poor Archway station; as if life isn't bad enough not being clad in red tiles, it's squashed under a 1963 architectural disaster, though at least the tower has inspired at least one good song, the harrowing 'Archway Towers' by New Model Army. Every cloud, and all that...
Archway to Highgate
A long run of estates takes you north to Hornsey Rise. There's nothing wrong with these estates – some of them look quite pleasant, even in the rain – but there's nothing to write home about. However, halfway to the next station we joined the Parkland Walk, and things instantly improved.
The Parkland Walk, which the Capital Ring follows on day 12, is an old disused part of the Great Northern Railway line that has been turned into a walkway. This means it's extremely flat and easy to walk along, but it also means it's raised above the height of the surrounding suburbs on an embankment, and although it does make it hard to see what the area looks like, it makes for some sheltered and peaceful walking. We joined the walk just west of the old Crouch End station, whose raised platforms you can still see next to the trackless track; the walk goes all the way to Finsbury Park in the east, but we wanted to head for Highgate, so we trudged away in the opposite direction. The continuous rain turned the path into a bit of a stream, but luckily both of us had seen the weather forecast and put on proper walking boots, so we still made good progress, soon arriving at the Highgate end, where the old track terminates in a couple of old, dark tunnel mouths, which are sensibly fenced off from the world.
Highgate station is hidden below Archway Road, and the back entrance can be reached down a long driveway. There's a slightly bigger entrance on Priory Gardens, but as with Archway, the guts of the operation are well hidden, though this time it's in a deep cutting rather than a towering monstrosity.
Highgate to East Finchley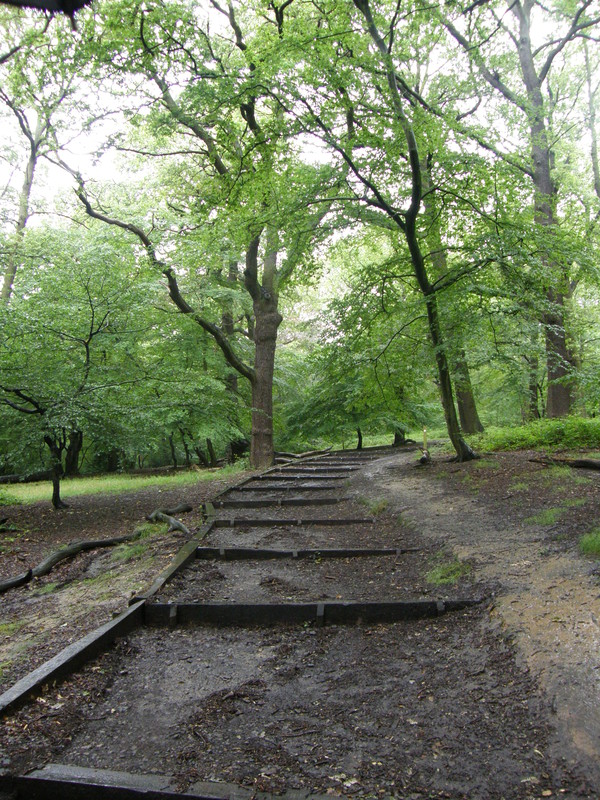 The Capital Ring continues northwest all the way to East Finchley, and it's well worth following as it winds through two woods and through a park. The first wood, Queen's Wood, is the wildest of the two, and even though there's a gravel path at one point, it's still a bit of a slippery bugger in the rain. It is, however, a genuine English wood, and you could be forgiven for believing that you were in the middle of the countryside.
Highgate Wood, just over the other side of Muswell Hill Road, is rather more open, with wider paths that were popular with the baby and buggy crowd when I was here last (though there are new entrances to the park that would make even the most dedicated buggy shuffler think twice). Again this is quiet, leafy territory, but still waters run deep, for just to the north of these two woods, just off Muswell Hill Road, is 23 Cranley Gardens, the second house where Dennis Nilsen lived and various visitors died; he committed the last three of his 15 murders here, and was finally caught when the body parts he was disposing of into the sewage system clogged up the drains and attracted the police's attention. I'll be walking past his other house, where the other 12 murders took place, on my walk along the Jubilee line from Dollis Hill to Green Park.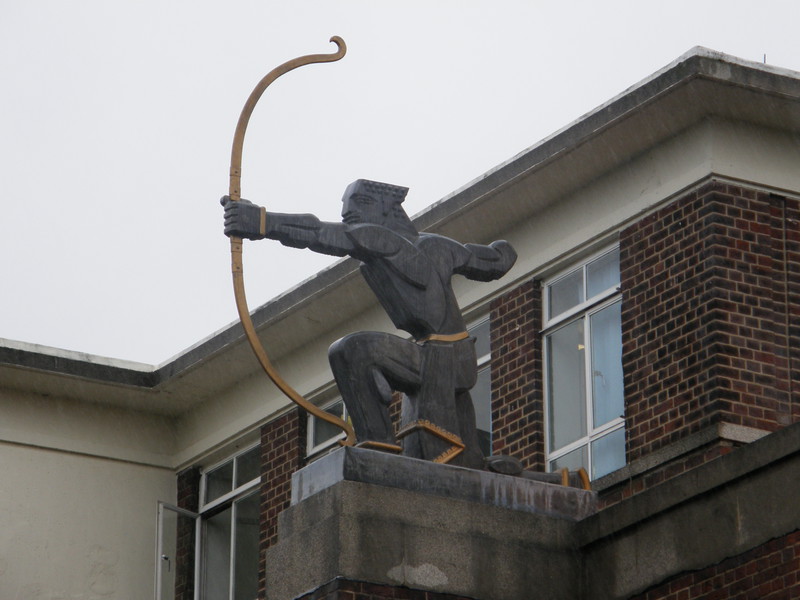 At the northwest exit to Highgate Wood, the Ring goes over the old railway line to Alexandra Palace (though you'd be hard-pushed to spot it) and through some suburbia to Cherry Tree Wood, which is pleasant enough if you can ignore the mouldering block at the far entrance, which surely needs to be put out of its misery. East Finchley station is just across the Great North Road, but before you cross, look up at the top of the station to see the kneeling archer, who looks as if he's just released an arrow along the line towards central London. This station is another great Art Deco-style Charles Holden design, dating from the station's rebuilding in the 1930s, and the 10 ft-tall archer statue by Eric Aumonier is the icing on a very attractive cake.
And so ends a lovely walk that even constant rain couldn't dampen (well, psychologically, anyway). We dried ourselves out in a great little pub right next to the station – the Old White Lion – which I can highly recommend, especially for real ale lovers.